Your ideas on renaming chemical weapons, Douglas Adams and Brexit
Weapons rebrand
'Chemical weapon' is a chilling title that causes a shudder and taints the world of chemistry. We don't refer to swords and daggers as metallurgical weapons; nor do clubs, cudgels, spears and sundry pointy-sticks get called arboreal weapons; and knuckles, feet, knees and heads are not seen as anatomical weapons. Further back in time, 'lapideous weapons' would have been a difficult grunt in the Stone Age. Against this backdrop, chemicals can be seen in a kinder light – as long as that light is not laser-sourced from a directed-energy weapon!
Ian Bellis CSci CChem FRSC
Hawarden, UK
Deep thought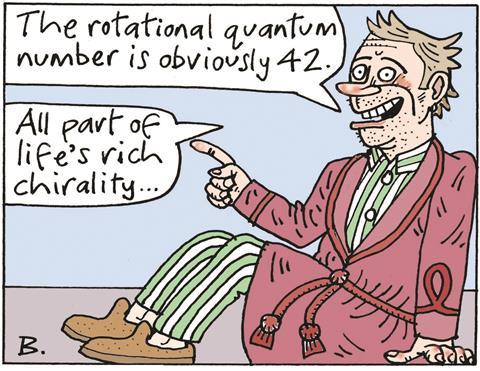 The conclusion of Philip Ball's article on life's chirality (Chemistry World, April 2018, p29) concluded that a rotational quantum number J of 42 should achieve observable rotationally induced chirality. Surely this should have cited Douglas Adams' The hitchhiker's guide to the galaxy?
Peter Baker CChem FRSC
Great Missenden, UK


Glasses dismissed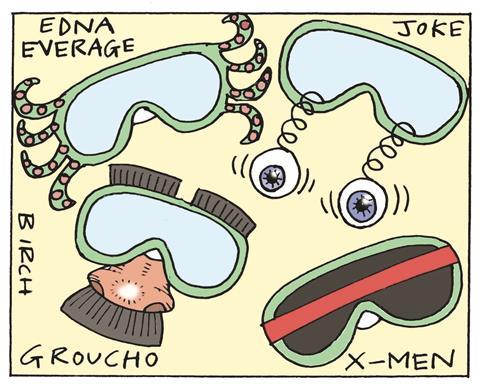 Your April editorial was brilliant, a superb pastiche exposing the risible assumptions behind 'chemistry' images (Chemistry World, April 2018, p2). I would add one more type, which tends to crop up in the rare cases where chemists themselves are involved in a choice of image: with an eye on health and safety issues, the enforced depiction of everyone in the ugliest possible form of safety glasses, no matter what they are doing. Choose chemistry as a career and you, too, can aspire to look like this!
Keep the humour coming; it is most refreshing.
David Andrews CChem FRSC
Norwich, UK
More Brexit bias
I am in complete agreement with Tim Fowler with respect to his views on the bias shown against US President Donald Trump and Brexit in Chemistry World and also his reasons for voting 'leave' in the referendum (Chemistry World, March 2018, p4).
However, I would urge him to remain a member of the Royal Society of Chemistry, not least because then I know there are at least two of us with similar views! I take comfort from this line from John Milton's Paradise lost: 'How few sometimes may know, when thousands err.'
I also recommend a website, briefingsforbrexit.com, in which academics make the case for the UK leaving the EU. It is an excellent site to visit if you are pro-Brexit.
Martin Ward MRSC
Northampton, UK


The editors are to be commended for publishing the letter from Tim Fowler (Chemistry World, March 2018, p4), in which they are accused of political bias in their treatment of articles on Brexit and Donald Trump. The writer feels compelled to tell us his five reasons for voting to leave the EU which, frankly, are the same well-rehearsed old chestnuts trotted out for decades and simply do not stand up to scrutiny. For example, looks at the article in the same issue on how the European commission is decisively intending to deal with the plastics problem (Chemistry World, March 2018, p9) it is clear that four of his reasons are demolished at a stroke. This is a perfect illustration of European parliamentary democracy in action.
I will state my reasons for voting to stay in the EU: to prevent a third world war starting in Europe; to guarantee the future prosperity of UK citizens by remaining a member of the most powerful economic bloc in the world; and to remain in the customs union and single market to ensure tariff free trade with our neighbours and a seamless border between Northern Ireland and the Republic of Ireland. My major worry is for those employed in the car manufacturing in the north east when they will see tariffs imposed by our biggest trading partner; most economists agree that it is the areas north of Cambridge that will suffer most if we leave the EU.
John Watson FRSC
Newtownards, UK
Scott: Please put line above corrections rather than below
Corrections
Apologies to those scouring a map of the US state of Massachusetts trying to find Northwestern University (Chemistry World, April 2018, p12). We recommend searching in Illinois instead.