How Zoë Ayres has used social media for advocacy and to increase visibility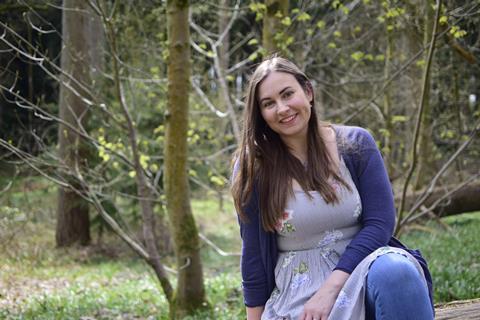 When Zoë Ayres decided to share a poster exploring mental health during a PhD as part of the 2019 Twitter #RSCPoster event, she wasn't quite sure how the online chemistry community would respond.
'I don't know exactly what inspired me to go a bit off-piste and … make this poster about PhD mental health rather than make a poster about science,' says Ayres, who is a senior scientist in the water industry, a member of the analytical division council for the Royal Society of Chemistry and a mental health advocate.
To her surprise this first foray into online mental health advocacy 'really did kind of take off'. Ayres' poster reached around half a million impressions on Twitter, sparking crucial conversations about wellbeing and mental health in academia. '[It] really gave me the confidence that people would actually engage with the conversation and would talk about mental health,' explains Ayres. 'There were people suffering in silence that were like, wow, you know, this is something that we should be talking about.'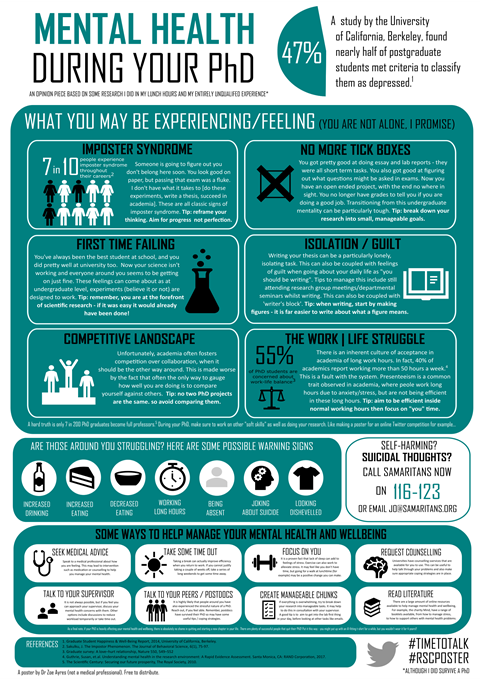 Ayres clearly started a conversation that resonated. At the time she had around 350 Twitter followers and now, less than three years later, she's reached almost 44,000.
She was prompted to write about the experience and to consider the ways that she could extend this positive impact. The original poster is now downloadable on her website (complete with translations in five languages) along with a whole series of posters discussing different aspects of academic mental health. And there's much to discuss. For example, a 2014 report from the University of California Berkley, US, found that almost half of postgraduate students met criteria to classify them as depressed. And research published in Nature Biotechnology in 2018 found postgraduate students to be 'more than six times as likely to experience depression and anxiety than the general population'.
Covid concerns
Covid-19 has placed additional challenges on the mental health of researchers, and so Ayres created specific resources to support others during this time. 'I didn't do my PhD during a pandemic,' says Ayres. 'So, what that means is that I have to listen, and I have to make sure that I'm really trying to observe what people are going through and amplify other people's voices.'
In many ways, Ayres believes the pandemic has catalysed conversations around mental health in science. 'People have realised that if we don't look after ourselves and we don't look after our health – and that includes both physical and mental health – then we can't do the research that we need to do.'
And the reason that some of these difficult conversations seem a little easier now? Ayres suggests that's due to some of the barriers that have been broken down while working from home. 'You know, people's kids coming in in the background or people's pets in the background, or seeing someone sat in their kitchen because their wifi isn't working properly,' she says. 'I think you get more of a feel for people just being human beings. And I think, again, that really helps with the conversation around mental health, because you're not just coming in to work as a scientist and leaving as a scientist, you're in as a human being and people can actually see that.'
One of the ways that Ayres has strived to build this human connection and to amplify others is through the Voices of Academia online hub that she co-curates. Featuring guest blogs, a podcast and a Twitter presence, Voices of Academia 'bring[s] together the voices of academics across the globe to discuss mental health and well-being in academia'.
Together with one of her co-curators (Marrisa Edwards, who is an education-focused lecturer at the University of Queensland in Australia) Ayres has reflected on the timing of their efforts. 'Because we're having those conversations, they then snowballed and continued to happen,' she says. 'And the more people that gain confidence talking about their mental health, the more people that are going to feel more comfortable to speak out.'
Ayres' presence in this space on Twitter is both important and refreshing and it's making an impact. 'I had someone contact me the other day,' shares Ayres. 'Their professor had actually said: Hey, come join me and do a PhD and by the way, are you familiar with the work that Zoë does? Because this is my stance on mental health and I care.'