Online conferences may lack the social aspects of in-person events, but they have benefits worth retaining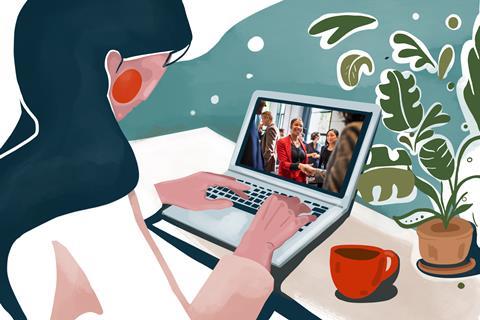 For me, nothing's quite the same as a scientific conference. I normally go to a lot – approximately one a month. However, I haven't been to a full-day event since January. I start to feel a bit stir-crazy when I haven't caught up with my usual meeting buddies in so long, but the current global crisis has rightly caused my intended spring and summer meetings to be cancelled.
I believe that what I learn at research talks are only one of a series of benefits of public meeting attendance. It's a great privilege to catch up with researchers from other institutions, friends you've met at other meetings and particularly former co-workers. I always make a point of going round the exhibition to get up to speed with the vendors too: they have the inside track on many aspects of science life.
As a student, I had a rule to always be the last one standing, so as not to miss out on any academic gossip or research chat. At one memorable four-day meeting, I felt terribly ill after the final handshakes and goodbyes were said, having managed about seven hours' sleep over the three nights. Worth it. I have many memories of science and non-science discussions over those long evenings, and new and strengthened friendships with my comrades there. It can be crucial to build these networks as a young chemist. What is more important than being able to say 'I was there – I experienced that first-hand'?
Now at the slightly riper age of 29, I'm much less likely to be debating stereoelectronic effects until silly o'clock. You have a greater chance of catching me at a one-day meeting at the Society of Chemical Industry or Royal Society of Chemistry; these disrupt my day job less, and employers are more likely to agree to fund my expenses. I love these events too, though their general atmosphere is quite different. With everyone rushing to catch their trains after a pint or two at the end of the day, the emphasis is much more on the talks themselves.
Now, the global effects of Covid-19 have shifted focus onto online conferences. As I am a fan of online networking and a lover of conferences, you might expect these to be right up my street. And they are! Some advantages are lower environmental impact, no travel costs, greater accessibility and less disruption for delegates and labs. However, I'd be disappointed to see too large a shift in this direction.
Personally, I find it difficult not to cave to the temptation of performing other work at the same time as watching an online talk. Just checking emails turns into some quick replies, turns into remoting into my LC–MS, turns into just a little bit of data analysis – and suddenly, I've lost focus for five minutes and missed something crucial in the speaker's slides.
Networking is, necessarily, a victim too. If I can see other participants' names, I'll private message the people I know to catch up and share our thoughts on the talk – but I could have chatted to them online any day. Nothing beats meeting in person.
Having said that, I don't wish to focus on negativity, because the efficiency of these events is undeniable. There are so many online meetings during this time that I created a publicly-available calendar and have been able to participate in several.
What I've found most valuable is the chance to hear from speakers anywhere in the world without extra costs. I recently watched a fantastic, pan-European drug discovery symposium delivered via weblink. The feedback I saw was very positive, and it was exactly as engaging as if the speakers were in the room.
It looks like I'll be running a couple of online meetings soon, a new experience for most attendees and organisers alike. We are excited to widen accessibility, include delegates from more countries and add enhanced technology such as auto-captioning and improved live-tweeting. Just like for an in-person meeting, a vast amount of work goes into the audience experience every time. Organisers should make the most of this current period of self-reflection, and strive to retain opportunities for increased accessibility and international inclusion when we can once again meet in person.