Raising a glass to measuring gas
I indulged myself with a rare and geeky treat recently: half a day visiting a chloralkali plant by the Thames with BBC journalist friends. It was thrilling: a Mont Blanc of salt piled up beside a huge pool of brine; thick copper busbars delivering current to ranks of electrodes; and coloured pipes everywhere – yellow for chlorine, red for hydrogen and purple for the caustic soda.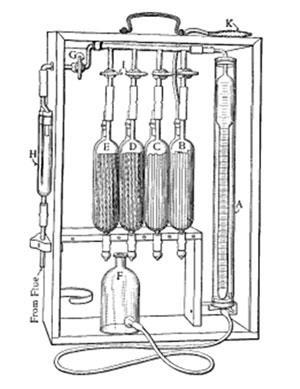 In the chemistry lab, we met the team that ensures the company's products are up to scratch. On one side of the lab was a small, gleaming gas chromatograph. But not far from it was a rather simpler wooden box with a handle. The apparatus in the box was instantly recognisable, though I'd only ever seen it in pictures. 'Our Orsat,' said one of our hosts proudly.
Louis Orsat was born in Paris on 14 August 1837. His father was the director of the first factory to make the white pigment blanc de céruse (lead carbonate) in Clichy on the outskirts of the city. The pigment was used in paints and cosmetics, in spite of its unsavoury reputation for causing 'saturnism' (lead poisoning) in factory workers.
After studying engineering at the prestigious École Polytechnique and the École des Mines, Orsat set up as an independent consultant in Paris. He worked with a wide range of firms on fuel and combustion issues, while apparently also running his father's plant in Clichy.
On the outbreak of the Franco–Prussian war, Orsat became an officer in the artillery. The war was a disaster for France. The French refused to surrender, even when the entire army was captured by the Germans after battle of Sédan. Otto von Bismarck, Germany's 'Iron Chancellor', ordered his army to lay siege to Paris. It was a terrible time – every circus, zoo and menagerie was pillaged in a desperate search for supplies. Keen to maintain standards, one Paris restaurant advertised consommé of elephant, civet of kangaroo and the optimistic 'cat flanked by rats'. When the city finally surrendered, Bismarck ordered a savage bombardment of its centre before supplies were brought in. As the city recovered, Orsat, who was awarded the Legion of Honour for his service, returned from combat to questions of combustion.
The problem was fuel efficiency. In the case of smelters, maintaining the optimum ratio of CO to CO2 is critical. But monitoring this in real time was impossible unless, as Orsat noted drily, you were a trained chemist with access to 'mercury flasks, thermometers, barometers, cathetometers, eudiometers, hygrometers…'.
So Orsat combed the literature. In 1849, Henri Regnault and Jules Reiset had published a monumental paper, 221 pages long, describing experiments to establish the precise mass balance of a living, breathing animal. Confining dogs, pigeons, rabbits, hens, even marmots to a bell jar, they used sequential selective absorption and then explosion with hydrogen to determine the quantity of each gas.
Modifications were quickly made to allow for every kind of gas analysis
Orsat adapted this subtractive volumetric approach, shrunk down to fit in a robust wooden box. The apparatus consisted of three reagent tubes containing potash, alkaline pyrogallol and a solution of ammoniacal copper (i) chloride. These were connected on one side via a slender glass manifold to a squat, water-jacketed, gas burette that could be charged by raising a water-filled bottle linked to it by a rubber tube. At the other end, the manifold received flue gases through a tube in which Orsat thoughtfully placed a wodge of cotton wool to keep the system clean. A small water aspirator allowed the manifold to be cleared of residual air.
To operate, the bottle is raised, filling the burette with water. On lowering the bottle, an aliquot of gas is drawn into the burette and the system is sealed. The tap to the potash tube is then opened and, by raising and lowering the water bottle several times, the gas is scrubbed of CO2. The tap is closed again and the volume of gas remaining is noted. Pyrogallol then accounts for the oxygen, and copper determines the CO. The remainder is assumed to be nitrogen.
Orsat left several prototypes at factories around France and spent three months travelling on France's railways measuring the flue gases of locomotives. On the 147km run from Paris to Tergnier he conducted 57 consistent analyses in succession. His point was that, although less rigorous than a formal lab analysis, his method allowed multiple determinations to be made quickly, which could be averaged. And you could do it anywhere.
He patented his idea and it was immediately reported in the Chemical News and in Dinglers Polytechnisches Journal. Modifications were quickly made to allow for every kind of gas analysis. In 1912, Arthur Thomas' catalogue of equipment listed the Lunge, Muencke and Fischer variations. And to my delight, in 2014, more than 140 years after its invention, there it was still, being used to monitor the purity of chlorine by the Thames.
On the train back, as the weather became steadily stormier, we talked about what we'd seen. For me, it had, unquestionably, been a grand day out.
Andrea Sella (@Sellathechemist) teaches chemistry at University College London, UK
Acknowledgments
I am grateful to David Compton and his colleagues at Imperial Chemicals and to R Mahl and M-N Mainsonneuve for a scan of Orsat's paper.
References
L H Orsat, Annales des Mines, 1875, 8, 485