Celebrating LGBTQIA+ scientists through fashion and photography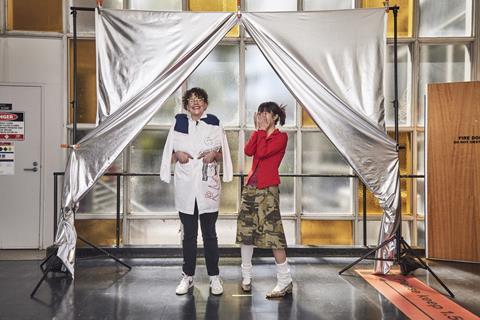 'Not all chemists wear white coats' proclaimed fading posters on the walls of my school chemistry labs. It's still undeniably true, and yet two decades later, the lab coat persists as the most iconic sartorial representation of a scientist.
In a new project that launched publicly during Sydney WorldPride this month, we aimed to challenge the normative stereotype of a lab-coat-wearing scientist. Instead, we have reimagined the garment as an identity cloak.
The Cloak project draws together an interdisciplinary team of researchers from the University of Technology Sydney (UTS) and the University of Sydney in Australia, who have partnered LGBTQIA+ scientists with fashion students to 'transform discarded lab coats into new garments responding to the scientists' queer histories'. Whereas the lab coat can be viewed as a homogenous, quasi-uniform for scientists (as well as an important piece of personal protective equipment), Cloak has turned them into unique pieces of clothing that represent each scientist's identity or identities.
As a queer scientist, I know from both the literature and lived experience that not every LGBTIQA+ scientist feels safe to be out at work. When first imagining the Cloak project, we wanted to highlight issues affecting queer inclusion in science while celebrating queer scientists and increasing our visibility. The reimagined lab coats have become 'cloaks' that challenge the notion that scientists should leave aspects of their identity outside the lab. Objectivity in science requires control experiments, not control over how scientists express themselves.
New labels
The dozen scientists who participated in the project were selected from an open call and introduced to their fashion designer counterparts at a workshop in late September 2022. Led by Cherine Fahd and Todd Robinson from the School of Design at UTS, the workshop allowed time for scientists and artists to learn about each other, their work and their reasons for participating in the project.
Each designer then had less than two months to create a new or reimagined garment from worn-out lab coats provided by the school of chemistry at the University of Sydney.
Ready to wear
The next time we met, Fahd and her team photographed the moments when each designer presented their scientist partner with their bespoke lab coat. 'I witnessed and learnt from Cloak that designing an individual item of clothing for someone is an incredibly intimate process,' says Fahd. 'It requires two people to meet, talk, ask questions and listen. Across two workshops, I saw a generous social exchange between fashion designers and scientists. The warmth generated between the designer and the scientists was affecting.'
Following the presentation, each scientist was filmed walking a 'runway' in the school of chemistry's oldest teaching lab (cleaned and decommissioned before filming), providing a striking backdrop for the shoot. By the end of the day, I could see how comfortable each of my scientist colleagues had become in their cloak. The variety in the designs was breath-taking; from two-piece suits to coats that had been hand painted with Australian native flowers, each cloak told a story. They were no longer clothing to support chemical safety; now each garment supported its scientist to feel safe in a different way, and all while being seen.
CLOAK brings together LGBTQI+ folk working in STEM, with emerging fashion designers to reinvent the lab coat as a symbol of queer pride. Find out more: https://t.co/42hlyU8UG7@utsart @SydneyChemistry @SSSHARC @Sydney_Science #UTSGALLERY #UTSART #CLOAK #UTSDAB pic.twitter.com/AQauiiK2XQ

— UTS Science (@UTS_Science) February 15, 2023
Meaningful recognition
Lee Wallace, professor and director of the Sydney Social Sciences and Humanities Advanced Research Centre at the University of Sydney, co-leads the research team as a participant observer and was instrumental in establishing the interdisciplinary collaborations at the heart of the project. 'It has been an extraordinary privilege to watch the creative interactions between the designers and scientists across the two Cloak workshops,' says Wallace. 'We knew at the outset that this project was about being seen, but I don't think we quite understood the mutual basis of meaningful recognition and how transformative that can be.'
'As Cloak's art director, I have tried to capture in photography and film the reciprocity at the heart of our experiment, the unique lab coats reimagined by 10 designers and the 12 scientists' openness and willingness to play,' says Fahd. Such partnerships between artists and scientists have the capacity to explore new connections between science and the public. They can also enable science to explore difficult questions in new ways. Collaboration, creativity and shared trust is key to realising this capability.
The CLOAK fashion show and photography exhibition launched at a public event marking the start of Sydney WorldPride on 16 February 2023 and will be on show throughout the festival on a huge screen that is visible from one of the busiest thoroughfares in the city. You can also visit the virtual exhibition