Carboranes (2nd edn)
Russell Grimes
Academic Press
2011 | 1139pp | ?150 (HB)
ISBN 9780123741707
Reviewed by Alan Welch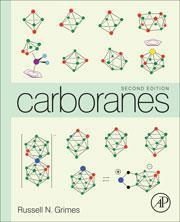 The first edition of this classic book was published in 1970, just seven years after the first papers on carboranes appeared in the open literature, and ran to just 272 A5 pages. The intervening years have seen the field of carboranes and heterocarboranes (particularly metallacarboranes) develop into a mature (but still growing, and frequently surprising!) subject that is now very much part of the fabric of modern organic/organometallic/inorganic chemistry. Russell Grimes has been one of the pioneers of carborane chemistry since the earliest days, and in this second edition his deep knowledge of, and affection for, the subject is very evident.
On one level the book affords a very readable introduction to carboranes for those new to the field, and on another it is a comprehensive encyclopaedia of carborane research with references as recent as 2010. A free companion website (at time of writing updated to August 2011) will periodically add new published data in tabular form, so ensuring that the work as a whole is always up to date.
The book is logically structured and easy to navigate. As a typical example, to find out about closo-C2B9 carboranes you go straight to the 11-vertex carboranes chapter, closo section, where structure, synthesis and reactivity of these compounds are all described. The text is supported by an extensive tabular summary of known examples containing a very useful breakdown of where detailed further information can be found in the many references supplied.
The final 100 pages of the book are devoted to applications of carboranes in numerous areas, but particularly polymers, catalysis and medicine, illustrating that carboranes are no longer esoteric molecules but a family of compounds of relevance to and important in a wide range of diverse fields and technologies.
This is both a timely and timeless book. I have two copies, one in the lab for the students and postdocs and one in my office, and I recommend it unreservedly to anyone with any interest in these beautiful and unique compounds.