Organic chemistry (8th edn)
Organic chemistry (8th edn)
John McMurry
Belmont, US: Cengage Learning
2011 | 1344pp | ?50.99 (PB)
ISBN 9780840054531
Reviewed by Martina Lahmann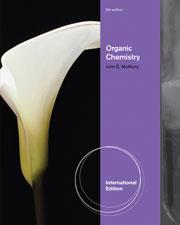 Wow, what an improvement! This was my first reaction when I flicked through the most recent edition of Organic chemistry. Even the contents list grabbed my attention; I just had to find out why the chapter on carbonyl condensation reactions opens with a picture of a baby rhinoceros.
I have used earlier editions of this book when I started teaching organic chemistry. Although the majority of my students seemed to like this textbook, at that time I was a little doubtful about it. Now I am almost convinced that McMurry must have had my wishlist of suggestions on his desk while he was working on the current version, producing a formidable and up to date textbook.
Compared with earlier editions, the chapter on stereochemistry has been updated, and it naturally complements the thorough discussion on bonding and structural features in the opening chapters of the book. Traditionalists will not be disappointed in finding all the important fundamentals clearly presented in the following 1100 pages, but McMurry has undoubtedly understood the necessity to update this selection too. The Tollen's reaction has been kicked out, but many important modern reactions (eg the Suzuki-Miyaura coupling), reagents and techniques have been included. McMurry has been always good at weaving biological aspects into his textbook, and I was pleased to discover that the often neglected sections on biomolecules, especially those on carbohydrates and nucleic acids, have received a proper makeover.
Organic chemistry is primarily targeted at US sophomores, but a closer look reveals that there is more in it, making it definitely suitable for undergraduate chemistry courses at European universities. The clear layout with its deliberate use of colour, well-presented figures and schemes in combination with a concise, reader friendly text ensures easy access to the content.