Climbing the limitless ladder: a life in chemistry
Climbing the limitless ladder: a life in chemistry
C N R Rao
Singapore: World Scientific Publishing 2010 | 232pp | ?20.00 (SB)
ISBN 978981430786
Reviewed by Tony Stubbings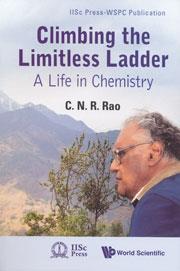 This is a charming autobiography of a giant of Indian chemistry, now 75 years old, who states near the end of the book that 'I am a physical chemist doing experiments'.
It is easy for autobiographies to become merely a record of the people the subject has ever met . This book, however, presents an interesting personal voyage and seems to have been written, in part, to inspire young people to take up careers in science. The reader learns about how Rao first got into chemistry and how his career progressed in India and internationally. There are also insights into what makes him tick - his beliefs and aspirations.
Rao was inspired to study science following a visit to his school by C V Raman and spent his student days at the time of Indian independence in the late 1940s. His career in chemistry started at the Banaras Hindu University, where he says he was inspired by reading Linus Pauling's The Nature of the Chemical Bond. Pauling was to become one of Rao's heroes - his others include Raman and J C Bose. After a period in the US where he studied at Purdue and Berkeley, coming under the influence of Herbert Brown and Gilbert Lewis, Rao returned to India in 1963.
Rao then outlines how his impressive international career in solid-state and materials (including nanomaterials) chemistry unfolded. He served as a faculty member in the department of chemistry at the Indian Institute of Technology Kanpur from 1963 to 1976 and as the director of the Indian Institute of Science from 1984 to 1994; his career was punctuated with visiting professorships abroad.
Rao has constantly promoted Indian chemistry, providing advice to the Indian government and inspiration to generations of young Indian students. Despite increasing involvement over the years in science administration, Rao has continued to carrying out research, and in fact claims some of his best work has been done since turning 60.
Rao is currently the national research professor, Linus Pauling research professor and honorary president of the Jawaharlal Nehru Centre for Advanced Scientific Research in Bangalore, as well as chair of the Scientific Advisory Council. He is also the director of the International Centre for Materials Science (ICMS).
Rao has received honorary degrees and awards from all around the world, including the Dan David Prize for materials science in 2004 with George Whitesides and Richard Langer, the Centenary Medal of the Royal Society of Chemistry, several prizes from the Royal Society, and in 2010 the August Wilhelm von Hofmann Medal from the German Chemical Society.
Overall this is an absorbing autobiography of a man who has inspired many young chemists around the world as well as his beloved India.