Ebony Omotola McGee
Harvard Educational Publishing Group
2020 | 190pp | £30.95
ISBN 9781682535356
Buy this book on Amazon.co.uk
Buy this book on Bookshop.org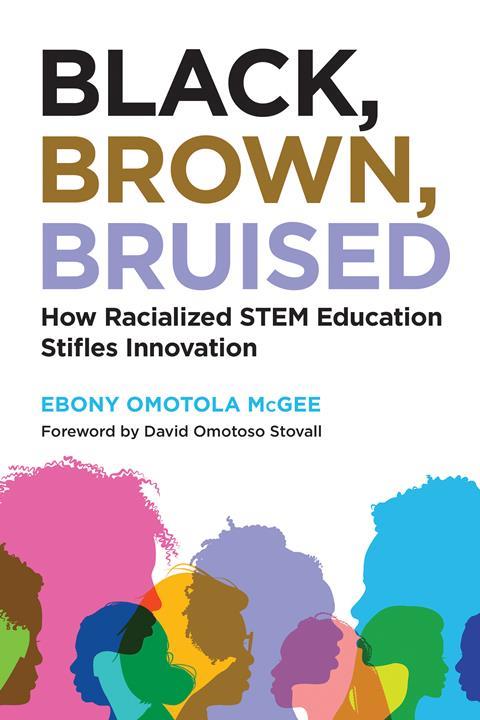 'African women who give birth in the US have the same newborn and maternal death rates as whites do – until they have been here for a while. After twenty years in the US, the Africans' maternal and infant death rates are the same as African Americans.' This is one of the most shocking facts that clung onto my mind in this exasperating read. That is, just how deep the impact of the inequalities and discriminations brought on by the full American racism experience is, not only on Stem (science, technology, education and maths) aspirations and mental health, but also on physical health.
In this book, Ebony Omotola McGee, professor of diversity and Stem education, details experiences from racially underrepresented students and faculty members within the Stem fields. Case studies and stories from her study subjects offer insights and accounts of both conscious and unconscious bias within historically Black colleges and universities, Hispanic-serving institutions, and within other academic establishments and work environments. The book also evaluates past and current efforts in widening participation, as well as offering practical suggestions for structural change to address racial issues and to promote inclusivity.
Thought-provoking reads are always appreciated. I liked this book because it triggered a lot of questions in my mind about biases different people face every day. As I was reading through the chapters, many of the described experiences and drawn conclusions were so generalised that I actually could not clearly distinguish whether these were specifically racial issues or problems within academia. It has definitely motivated me to invest more time looking for data that might offer some clarity.
McGee's writing style is quite conversational with good storytelling elements, so it was not a difficult book to read. However, the experiences of discrimination described were so infuriating, it was difficult to digest from an emotional point of view.
I would recommend this book to anyone in academia who may not already be interested or engaged in the Black Lives Matter movement. Black, Brown, Bruised highlights the plights and detrimental stresses that minority groups have to face on a daily basis that others might not be aware of. Although McGee's case studies and stories focus on a US context, I think her insights are equally useful for people elsewhere, particularly those who might not realise what prejudices minority groups encounter everywhere. I would say that even people not working in Stem may gain a lot of insight by reading McGee's work; it definitely does bring fuel to the fire in the push for equity.