An excellent new textbook in this area targeted at third and fourth year undergraduates
Essentials of chemical biology: structure and dynamics of biological macromolecules
Andrew Miller and Julian Tanner
Chichester, UK: Wiley 2008 | 590pp | ?37.50 (SB)
ISBN 9780470845318
Reviewed by Sophie Jackson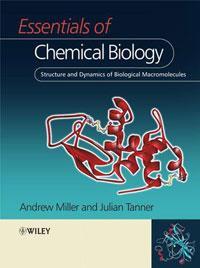 Chemical biology has been a growth area in research in chemistry departments worldwide over the last ten years, and its importance is now being recognised by the increasing degree to which it is being taught at an undergraduate level. The recently published Essentials of chemical biology by Andrew Miller and Julian Tanner is an excellent new textbook in this area targeted at third and fourth year undergraduates as well as young researchers. The book provides an important foundation in both the chemistry associated with biological systems, in addition to the wide array of chemical techniques and methods currently used to investigate biological problems.
The book starts with a broad background into the structure, chemical and biological syntheses of the main classes of biological macromolecules and then focuses on the molecular biology and biophysical techniques that are extensively used in chemical biology. In each case, the underlying physical chemistry is described in detail, in addition to its application to the study of biological systems. Later chapters focus on processes key to biological function such as molecular recognition and binding, kinetics and catalysis.
In summary, Essentials in chemical biology is a valuable resource not only for chemistry students who are venturing into and interested in biological systems, but also biochemistry and biology students who want a fundamental understanding of the physical and chemical basis of biology and the techniques used in its study.