Presenting science. A practical guide to giving a good talk
Presenting science. A practical guide to giving a good talk
?igdem Issever and Ken Peach
Oxford, UK: Oxford University Press 2010 | 120pp | ?39.95 (HB)
ISBN 9780199549085
Reviewed by David Parker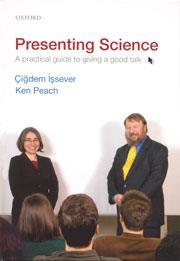 From giving a project update to a handful of people in a research group to presenting a keynote address to a conference audience of thousands, the talk is a vital communication tool of the working scientist.
We all know a good talk when we've heard it, and it's easy to be critical when you're on the receiving end, but how is this success objectively achieved?
Preparation and practice are the all-important bywords of I s sever and Peach's new primer on giving a good talk. As the authors suggest, though a talk is as individual as the person giving it, there are many underlying ground rules and considerations that can make the difference between success and failure.
With examples from the authors' own discipline of physics, this accessible (if a little pricey) short book walks the reader through many important topics, such as knowing the audience, timing and structuring the talk, and dealing with questions. The authors also address the seemingly subtle but vital issues of dress code, body language, the use of props and even pointing devices - after all, how many times have you been given a headache from trying to keep up with an over-enthusiastically-waved laser pointer?
Though some of the best talks I've ever attended have been largely or completely slide free, PowerPoint is here to stay, and the authors necessarily devote a large number of pages to examples of considered good and bad practice.
When it comes to presentations though, there is no substitute for experience, rehearsal and acting on feedback. So though this book is ideal for trainee scientists, it can't tell you what to say or how to say it. However, it does offer many valuable pointers to help the reader objectively prepare and deliver presentations, develop the necessary soft skills and find the style that works for them.