Introduction to chemicals from biomass
Introduction to chemicals from biomass
James H Clark and Fabien Deswatre (eds)
Chichester, UK: John Wiley 2008 | 198pp | ?45.00 (HB) ISBN 9780470058053
Reviewed by Lucy Nattrass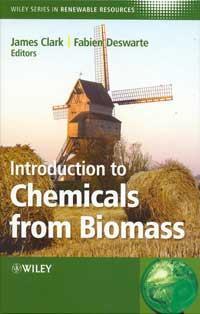 Introduction to chemicals from biomassprovides a thorough introduction to this fast moving sector. The authors include a wide variety of accesible definitions ranging from an in-depth explanation of the biorefinery concept and the different system approaches, through to brief explanations of processes and material properties, often neglected in other texts.
This book provides relevent discussion of the factors inhibiting the uptake of biomass as a feedstock for chemical production, and is packed with a staggering number of examples of commercial applications ranging from traditional medicinal and dyes, through to high performance ploymers and fibres. The book also includes an excellent introduction into the wider topics of green chemistry and engineering highlighting other important environmental concerns such as toxicity and biodegradation.
The degree of technicality varies from chapter to chapter, slightly disrupting the readability of the book, and some chapters may be more suited to use as reference material. Drawing on the expertise of the authors the book involves a degree of plant biology and chemical engineering, which illustrates the multidisciplinary nature of the topic beautifully .
Introduction to chemicals from biomasscould be of interest to chemical science undergraduates and graduate students, to whom the focus on industrial practicality will be a great benefit. The book could also prove useul to individuals working within plant sciences.