Computational chemistry: introduction to the theory and applications of molecular and quantum mechanics (2nd edition)
Computational chemistry: introduction to the theory and applications of molecular and quantum mechanics (2nd edition)
Errol Lewars
Heidelberg, Germany: Springer 2011 | 664pp | ?62.99 (PB)
ISBN 9789048138616
Reviewed by Rob Deeth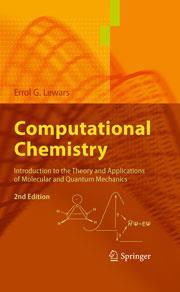 There are many textbooks and monographs devoted to computational chemistry but, in this reviewer's experience, Lewars' is unique. In addition to the principles of computational chemistry, there is a real attempt to provide an insight into the 'nuts and bolts' of how various models work. Moreover, there is a welcome historical perspective of the computational chemistry revolution arising from the development of the digital computer.
The author really wants the reader to understand computational chemistry, a wish no doubt honed over many years of delivering apparently esoteric material to potentially sceptical and unreceptive students. Thus, in addition to the equations, there are step-by-step illustrations of precisely how they are used.
Each chapter opens with an abstract of what is to come and closes with a summary and a set of 'easier' and 'harder' questions. Answers are included at the end of the book and one sees the author's philosophy emerge again and again.
Computational chemistry is a very useful tool but caveat emptor - computational chemistry uses models of molecules, and models have strengths and weaknesses. However, once you have read and digested the material in this book - from molecular mechanics to H?ckel theory, from Hartree-Fock and post-Hartree-Fock methods through semi-empirical molecular orbital theory to density functional theory and more - you will have a sound appreciation of the fundamentals of computational chemistry and a basic grasp of its application. Couple that with the comprehensive and up-to-date references to point you in the right direction, you will soon be able to intelligently apply appropriate methods to your particular applications.
To that end, this text will appeal to the fledgling computationl chemistry PhD student, the lecturer designing a course, and to the experienced researcher who wishes to do their own calculations and wants to understand more about what is going on inside the 'black box'.