Kathryn Harkup
Bloomsbury Sigma
2018| 304pp | £16.99
ISBN 9781472933737
Buy this book from Amazon.co.uk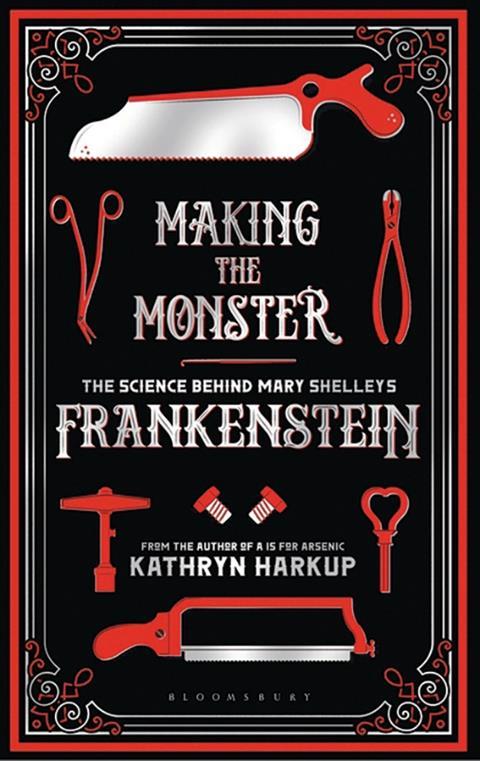 Two hundred years ago, Mary Shelley's Frankenstein hit the shelves for the first time. For modern-day readers the tale of Victor and his unfortunate monster is a classic horror story, a masterpiece of gothic fiction. But for readers from the first half of the 19th century it would have touched on much more acute real-life fears.
In Making the monster Kathryn Harkup puts you into those readers' – and Shelley's – mindsets, as she sets out the social, political and scientific issues of the day. Science back then was a bit like high-end fashion – a way for the wealthy to show off. But it also held the promise of improved manufacturing, novel materials and radical improvements for health and welfare. Grave robbing, however, was a particular fear among the population, and Harkup helps you appreciate how Shelley tapped into society's hopes and fears when she wrote Frankenstein.
I especially enjoyed considering how Shelley's social circle, education and travels inspired her writing. Humphry Davy, Lord Byron, John Hunter and William Lawrence are just a few of the big names that crop up. Harkup also outlines the scientific and medical practicalities of the day, many of which have persisted over the years, to explain how the plot of Frankenstein often falls down scientifically. The story itself skips over how its troubled protagonist managed to preserve the body parts, for example. Exactly how Victor then reanimates his creation is also lacking in detail, although the use of electricity – something whose effects on the body were being intensively studied at the time – is hinted at.
The volume of information packed into the text illustrate how well researched Making the monster is. For example, around the time that Shelley wrote Frankenstein the city of Edinburgh allocated 12 gallons of whisky per year to its university's anatomy museum for preserving anatomical specimens. And who knew that Albemarle Street in London, the road leading up to the Royal Institution, was the first one-way street in the UK? Necessary because of the masses flocking to Humphry Davy's lectures there.
If you haven't already read Frankenstein then make 2018 the year you do. And to properly appreciate the context of this literary and cultural classic, I wouldn't hesitate to recommend you follow it up with Making the monster.

RSC content editor, Chemistry World