Kathryn Harkup
Bloomsbury
2015 | 320pp | £12.79
ISBN 9781472911308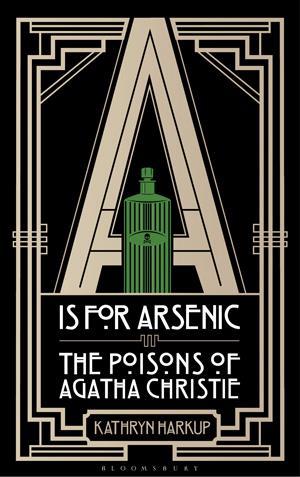 Most of us will be familiar with Agatha Christie's Belgian detective Hercule Poirot or the shrewd elderly spinster Miss Marple, who, as author Kathryn Harkup points out, consistently displays a worryingly detailed knowledge of drugs and poisons. However, few people are likely to have thought about precisely how each of the poisons Christie deploys in her plots actually kill, or why she was able describe their effects so accurately. A is for arsenic investigates the science behind the fiction.
The book provides a fascinating insight into Christie's early life as an apothecary's assistant during the first and second world wars, giving her direct experience of handling poisons and feeding a lifelong interest in the subject. When she turned her hand to writing novels, poisons were used to kill more characters than any other method. The dangerous compounds that feature in A is for arsenic range from the familiar – cyanide and opium – to the more obscure – monkshood and thallium.
Harkup covers 14 poisons used by murderers in 14 of Christie's novels. Each chapter begins with a brief summary of the scenario in which the victim is killed, so the reader does not have to be familiar with Christie's back catalogue to enjoy the book. After luring you in with the mystery, Harkup structures each chapter in a similar way. She covers the poison's history, its mode of action, whether there is an antidote, examples of real-life cases, and how all of this information inspired Christie's use of the poison.
The keen chemist will not be disappointed. Although the content is written in a way that is readily accessible, the chemical and biological effects of each poison is presented in a detailed and engaging way. Christie herself was so well informed on poisons that her novel The pale horse was acknowledged by physicians in the British Journal of Hospital Medicine after a nurse who had been reading it recognised the symptoms of thallium poisoning in a patient. For the eager reader there is an appendix containing some of the larger chemical structures discussed, and a selected bibliography should you wish to find out more – the full list is available on Harkup's website.
2015 marks the 125th anniversary of the birth of the 'Queen of Crime', and there's sure to be a flurry of activity this year reminding us why she's the most successful novelist of all time – outsold only by the Bible and Shakespeare. If you are coming to Agatha Christie's work for the first time, an avid fan, have an interest in crime or toxicology, or just like being taken on an adventure through time, A is for arsenic is a must read.
We talk more about A is for arsenic in our new 'Chemistry World book club' podcast. Next month, we'll discuss Scientific Babel by Michael Gordin. Read along with us and tweet us your thoughts to @chemistryworld using the hashtag #CWbookclub. To listen to the book club and all of our podcasts go to www.chemistryworld.org/podcast.
Purchase A is for arsenic: the poisons of Agatha Christie from Amazon.co.uk