Environmental forensics
R E Hester and R M Harrison
Cambridge, UK: RSC Publishing 2008 | 175pp | ?100.00 (HB) ISBN 9783906390505
Reviewed by Paul Kneller
The latest in the series Issues in Environmental Science & Technology is Environmental forensics - a discipline which is increasing in the UK but has very few books to support its wide-ranging field. This book should therefore be a welcome addition. Intended both for updating information for the specialist and for general interest, could this be a useful starter for undergraduates?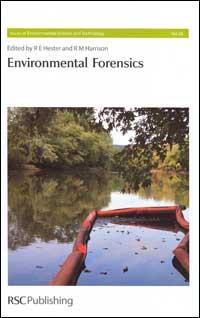 It is written, as stated, by some of the leading experts in their fields, which is both a blessing and a drawback. The range of topics runs from legislative frameworks through microbial techniques to stable isotope analyses - and as often happens, some of the authors expect a deal of prior knowledge. In addition to that, the style of each chapter is completely different.
However this is a very useful book which gives an excellent position statement on the application of the techniques and of their limitations in environmental forensics. A required purchase, I am sure, for all institutional libraries where these sorts of activities take place.
There are particularly fine chapters on stable isotopes, the perchlorate and chlorinated solvent problems and a good concluding chapter entitled Groundwater pollution: the emerging role of environmental forensics .
So in conclusion, a good but slightly eclectic collection of papers written by people in the know, rather than a complete overview of environmental forensics.
Finally, a small plea to editors of this type of book: can we have a glossary to help the confused and forgetful?