Michael Faraday's mental exercises: an artisan essay circle in regency London
Michael Faraday's mental exercises: an artisan essay circle in regency London
Alice Jenkins (ed)
Liverpool, UK: Liverpool University Press 2008 | 250pp | ?45.00 (HB) ISBN 9781846311406
Reviewed by Dennis Rouvray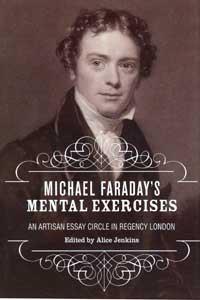 To get any kind of education when Faraday was a boy was difficult enough, but in his case it was even harder that usual.
Faraday was born in 1791 and grew up at a time when universal schooling had not yet been introduced. Moreover he suffered from the additional disadvantage of being brought up as a Sandemanian - a religious dissenter from the powerful Church of England. As the limited educational opportunities available at the time were generally under the Church's auspices, Faraday was banned from attending any Church schools and also from the only two English universities operating at the time: Oxford and Cambridge.
Faraday sensibly concluded that he would have to educate himself and in his first job as a bookbinder's apprentice he took the opportunity to read some of the manuscripts sent in for binding, including Lavoisier's Elements of chemistry. In his second job as laboratory assistant to Sir Humphry Davy at the Royal Institution in London he also avidly read whatever came his way.
However, Faraday felt that his knowledge of English and his ability to express himself were inadequate. To improve matters he decided in 1818 to set up a cultural group with four like-minded friends. The objective was to write essays on a wide variety of topics and to formally read these aloud at the group's meetings. Fortunately, the essays that Faraday wrote are preserved in the archives of the Royal Institution and are published here for the first time in book form.
They make for some fascinating reading and clearly reflect the attitudes and mores that prevailed in Regency England. In writing about self-education, for instance, Faraday asserts that 'I will simply express my strong belief, that that point of self-education which consists in teaching the mind to resist its desires and inclinations, until they are proved to be right, is the most important of all, not only in things of natural philosophy, but in every department of daily life.' Would that we were all able to follow such sage advice!