Nucleic acid-metal ion interactions
Nucleic acid-metal ion interactions
Nicholas V Hud (ed)
Cambridge, UK: RSC Publishing 2009 |447pp | ?89.95 (HB) ISBN 9780854041954
Reviewed by Roland K O Sigel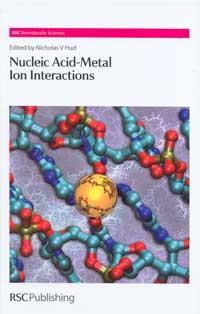 'Natural biochemical processes are continuously being discovered that involve RNA,' and 'DNA has also proven in recent years to be more than a positive storehouse of information', aptly states Nicholas Hud. The book assembles in 10 chapters a large part of today's knowledge about the 'reactivity' of nucleic acids, focusing on the description of the intimate connection between metal ions and large nucleic acids.
One of the difficulties is that much of our understanding of nucleic acid-metal ion interactions rests on X-ray structure studies involving Na+, K+, Mg2+ and Ca2+. Hence, this solid state situation is strongly emphasised. Although the dynamics and kinetics of folding processes are also part of the book, it becomes clear that in the future, comprehensive solution studies of small and large nucleic acids will also be needed.
The volume deals with the A- and B- forms of DNA, with G-rich DNA, RNA, and with the interactions between (especially kinetically inert) metal ions and nucleobases, encompassing rare nucleobase tautomers. It also looks at the role of metal ions in disease and medicine. Obviously, today there is much more than just cisplatin.
One shortcoming of the book is the rather rudimentary index, which makes it sometimes difficult to find the desired information on a specific type of nucleic acid or a given problem. Nevertheless, by providing the indicated background, the book is especially well suited to lead newcomers into the fascinating nucleic acid field.
Overall, this book is useful for both students and active researchers, and with more than 1800 references it facilitates a deeper dwelling on the topic.