Echoes of life: what fossil molecules reveal about earth history
Echoes of life: what fossil molecules reveal about earth history
Susan M Gaines, Geoffrey Eglinton and J?rgen Rullk?tter
Oxford, UK: Oxford University Press 2008 | 376pp | ?19.99 (HB)
ISBN 9780195176193
Reviewed by Richard Evershed
Echoes of life is a book that simply must be read by all interdisciplinary science enthusiasts. It is a compelling bibliographical history of the emergence and progress of the field of organic geochemistry over the past four decades.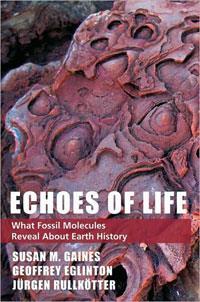 The book knits together in a unique way the context and characters of a remarkable field that has spawned and touched so many others. It is a delightfully endearing Who's Who of organic geochemistry; self-deprecating and respectfully irreverent in the way the central characters are linked to the landmark developments.
The honesty of the history is revealing; there is no smoothing over the cracks to make it appear that key discoveries were always meticulously planned. Instead it shows how serendipitous truly ground-breaking science can be. Seemingly disparate observations are made by researchers in far flung laboratories, then, like a good murder mystery, it is only when the real sleuth appears that the connections are made and the case solved.
Echoes of life documents how Geoffrey Eglinton's unashamed curiosity for geology, when combined with his molecular skills and analytical acumen, laid the foundations of a wholly new discipline. The contributions of others are generously amplified. As well as being a biographical history, Echoes of life is also a serious scientific work, exquisitely illustrated and bulging with reference information.
The core of the science is tackled head-on by the co-authors, Eglinton and Rullk?tter, with Gaines' documentary journalistic style accentuating and illuminating the key aspects of the molecular and biological chemistry, merging it seamlessly with geology, and other disciplines.
Overall, the book will captivate and inspire the uninitiated, while current practitioners will be enthralled; it is quite simply 'everything you wanted to know about organic geochemistry but were afraid to ask'.