Introduction to molecular motion in polymers
Introduction to molecular motion in polymers
Richard Pethrick, Taweechai Amornsakchai and Alastair North
Dunbeath, UK: Whittles Publishing 2011 | 224pp | ?45.00 (SB)
ISBN 9781849950084
Reviewed by Peter Budd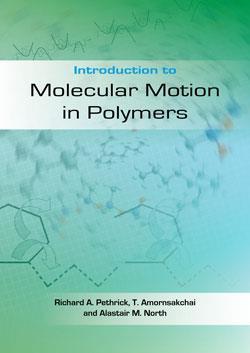 Polymers are all around us, from everyday plastics to functional components of electronic devices. They come in many forms, from hard, brittle glassy materials to soft, deformable rubbers, but they are all composed of very large molecules.
Of course, our understanding of polymers has changed over time. In the 1920s, when Hermann Staudinger pursued the idea that polymers were big molecules, he was categorically assured that 'organic molecules with a molecular weight above 5000 do not exist'.
By the 1930s, Staudinger was proved right about the size of polymer molecules, but there was one important thing Staudinger himself didn't grasp at the time: he didn't realise that these big molecules might bend and twist and change their shape. The flexibility of polymers and the motions they undergo are important for many of their useful properties.
Dick Pethrick, Taweechai Amornsakchai and Alastair North have provided a highly readable introduction to molecular motion in polymers.
This book, with its straightforward language, clear illustrations and simple explanations, will help students grasp the basic principles of polymer behaviour, before moving on to more advanced texts.
They will learn about the structures, shapes and movements of polymer molecules, and about what distinguishes the glassy, rubbery and crystalline states. They will gain an understanding of the mechanical, electrical, photo and diffusion properties of polymers; how to study them and how they are used.
Altogether, this book fills an important gap in making accessible an important subject that lies at the boundaries between chemistry, physics and materials science.