Transforming food waste into a resource
Transforming food waste into a resource
Andrea Segr? and Silvia Gaiani
RSC Publishing
2011 | 302 | ?24.99
ISBN 9781849732536
Reviewed by Keith Waldron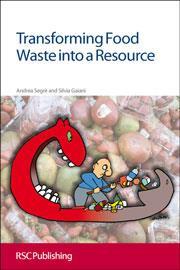 This book is a most welcome endeavour. It provides an informed overview of the socio-economic, political and scientific issues surrounding the over-production, over-consumption and waste of food.
It emphasises that food waste is a reflection of our very wasteful consumer-driven society and results from the interactions of many complex issues. These include varying national and international interests, food polices, trade subsidies and cultural criteria that differ throughout the world. The problem of food waste and how to address it is timely considering the recognised importance of sustainability.
As well as exploring minimisation and avoidance practises, the authors also highlight the approaches being taken to exploit food waste, providing numerous examples of activities to redistribute edible food to the more needy in our society. Indeed, they devote a whole chapter to the 'Last Minute Market' - an initiative launched and implemented in Italy by author Andrea Segr?.
The book is well written and very readable. It is of relevance not only to students and postgraduates, but will also be of considerable benefit to economists, policy makers and researchers who require a reliable but broader context than their own disciplines may provide.
RSC members can purchase this book direct from the RSC for a 35% discount.