Ben Barres
MIT Press
2018 | 160pp | £16.99
ISBN 9781684416769
Buy this book from Amazon.co.uk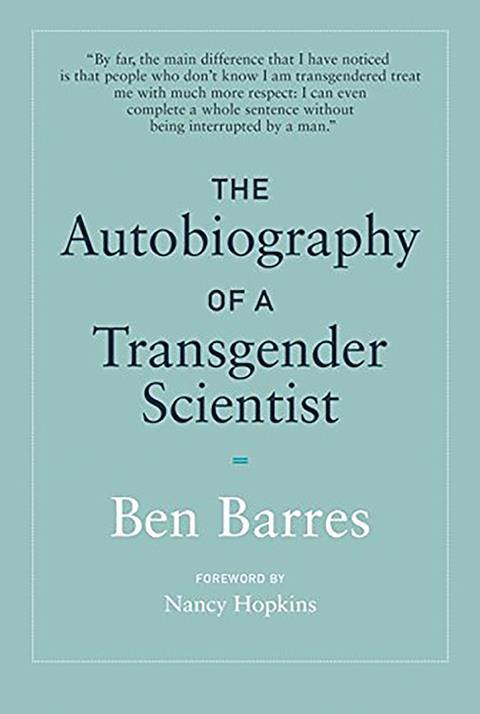 You could be forgiven for not knowing much about neuroscientist Ben Barres, whose memoir The Autobiography of a Transgender Scientist has been published less than a year after his death from pancreatic cancer. Barres devoted most of his energy to overlooked areas in various fields: he was passionate about his research – glial cells in the central nervous system – but also spoke out about the importance of mentoring in academia and advocated for women in science. His energy and perseverance brought his achievements to international attention, and that enthusiasm can be felt throughout this short but engaging book.
The book spans from Barres' early childhood through to his latest research, and is divided into three sections: life, science and advocacy. These differ in tone – the life and advocacy parts feel conversational and move at a fast pace, with Barres sharing his experiences in a concise, no-nonsense way. In the science section he describes his research, attempting to keep the science basic without sacrificing accuracy. Unfortunately keeping the O2As straight from the RGCs will probably prove difficult for anyone who hasn't been reading Neuron regularly.
Barres is reflective and honest when describing his professional life, crediting the the luck, hard work and collaborations that surrounded his achievements. He chronicles the various events and people that shaped his path in research and outside of work, taking the reader from New Jersey to California via London. He is frank about his struggles with his gender identity. This painful subject is acknowledged openly, though sometimes almost clinically. Remarkably, despite suffering from intense gender dysphoria that led to suicidal thoughts, Barres never sought to abandon or distance himself from women. Once he had transitioned, he used the perspective and authority his new male identity gave him to highlight the sexism female researchers face.
I was disappointed to find the section of the book discussing advocacy is the shortest, despite its potential to cover interesting topics and offer unique insights. Barres skims over many of the details by referring the reader to his publically available articles and statements. Still, his commitment to mentoring extends even beyond the grave in this book, which includes a list of all current and former trainees from his lab over the years as well as scrupulously crediting their achievements in the science section.
Overall, this is a quick and interesting read that shines light on an admirable and under-recognised individual. The science section will have limited appeal, but Barres' personal experiences are worth reading for anyone who is interested in equality, diversity and representation in science.