The book is perfectly balanced and contains many new chapters with detailed and comprehensive information
Nanochemistry: A chemical approach to nanomaterials
Geoffrey A Ozin, Andr? Arsenault and Ludovico Cademartiri
Cambridge, UK: RSC Publishing 2009 | 820pp | ?45.00
ISBN 9781847558954
Reviewed by Rafael Luque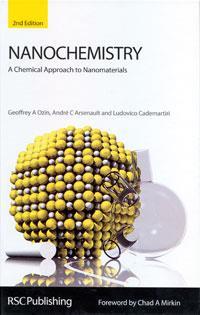 This book is the second edition of a title, first published in 2005, in which the authors have already established a reputation for good writing and attractive presentation across the field of nanoscience.
Unsurprisingly, the book is perfectly balanced and contains many new chapters with detailed and comprehensive information about a wide variety of nanomaterials/nanoapproaches of interest to people from different backgrounds. From nanoflowers to nanocubes through lithography, self-assembly and biomaterials, the highly challenging task of covering as much as possible of the immense and fast-moving nanochemistry/technology area has been successfully and elegantly accomplished.
Excellently written and well-structured, the book also includes a very appropiate nano-introduction with the basics, many references and interesting 'nanofood for thought' questions in each chapter that add value to the book. Being one of the best and most comprehensive available texbooks on the subject and not being particularly 'nano' sized (820 pages), it is also a magnificent value for money.
In summary, this second edition of Nanochemistry: A chemical approach to nanomaterials is not only a 'must have' in the collection of anyone with a minimum chemistry/materials background, but also a comprehensive masterpiece of art that will introduce readers from various backgrounds to the fascinating world of nanomaterials and nanoscience.