On paper, a move to Kazakhstan was going to be liberating for Raymond Whitby, but the reality is a new set of challenges, as Emma Davies discovers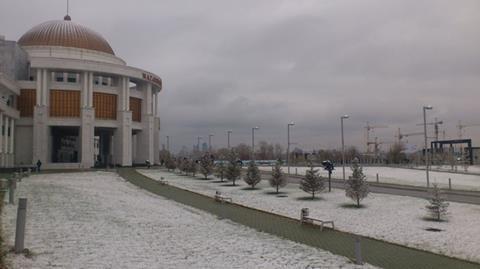 In January 2014, Raymond Whitby left the sunny climes of Sussex, UK, to embark on a new life in Kazakhstan. As he and his young family stepped onto the tarmac at Almaty airport, they were hit by biting winds and a bone-chilling temperature of –20°C (which turned out to be mild for the time of year). The contrast couldn't have been stronger.
Whitby had been a reader in nanomaterials chemistry at the University of Brighton but is now acting head of chemical engineering at Nazarbayev University. Officially opened in 2010, the institution was set up to be Kazakhstan's first world-class university, working to 'international academic standards'. The university operates in English and has staff from all over the world.
Whitby's research ranges from graphene to nanoparticles, for applications in everything from remediation to medical devices. He fell for the subject during his PhD on carbon and tungsten disulfide nanocomposites with Nobel prize-winning chemist Harry Kroto. However, as the years went by, Whitby says he became increasingly frustrated with the UK funding system's focus on certain institutions and emphasis on applications. 'Here [at Nazarbayev], we can do a lot more fundamental, innovative, blue skies research,' he explains.
Whitby had already delivered courses in Almaty and had a number of good Kazakh contacts. He had also spied Nazarbayev's gleaming new research buildings, just waiting to be kitted out with lab equipment.
Funding foray
Funding is not as difficult to obtain in Kazakhstan as one might expect. Nazarbayev University has a pot of money awarded according to peer-reviewed submissions – a process conducted by Oakridge Associated Universities in the US. And Kazakhstan's ministry of education and science also offers funding via international peer review.
However, 'the biggest difficulty is not so much the money as trying to establish infrastructure,' says Whitby. His funding is approved 'at least on paper', but trying to fill his lab with 'all of the equipment that we can think of' is proving to be an unexpectedly arduous process.
For example, although he ordered essential chemicals shortly after his arrival, he is still waiting for them to turn up. 'The delays are now an issue,' he sighs. 'It's destroying me at the moment … everything requires a lot of paperwork and an endless stream of signatures.' Items imported into Kazakhstan also tend to have a significant mark-up, he adds, and supplier contracts are full of penalty clauses.
Whitby has made progress in other areas: writing a PhD programme in materials science and engineering, which has recruited students, and developing a master's course too. Yet without the necessary research tools, life is far from straightforward. 'It's a case of how do we deliver the research projects,' he says. 'They don't even understand the concept of post-docs here,' he adds. Instead students tend to enter industry straight after a master's or PhD. 'As an ex-pat faculty this is what we're trying to overcome,' he continues.
Culture shock
Whitby had travelled extensively before, including a stint as a research fellow at Toyo University in Japan. Nevertheless, the move has proved a 'significant challenge', he says, not least because of language difficulties. He has also found the locals to be 'slightly more reserved' than those in the south of the country.
At home, Whitby's children – aged four, six and eight – are schooled by his wife. 'We have a six month winter and they are often house-bound so trying not to get cabin fever is quite a challenge,' he says.
Despite the issues, Whitby has learnt a great deal. 'It has been a great environment to come into. I was a chemist; I'm now in chemical engineering. I'm running a department and have set up PhD and master's programmes,' he says. 'Coming to a different country and understanding another mindset is a rewarding thing to do.'
When he looks beyond his immediate frustrations, he can see that 'the bigger picture is exciting', and he is positive that the international university will 'help the nation'. 'It is just going to take a while,' he admits.