How chemists can find a job in the expanding legal cannabis industry in the US
For Ezra Pryor, previous positions – as a lab technician and supervisor at the University of Southern California, US – left him feeling a little like a square peg in a round hole. After deciding to find a job that better suited his interests, he has found a niche as president of EZChem Chemistry Consultancy: a company that advises others on the chemistry of cannabis.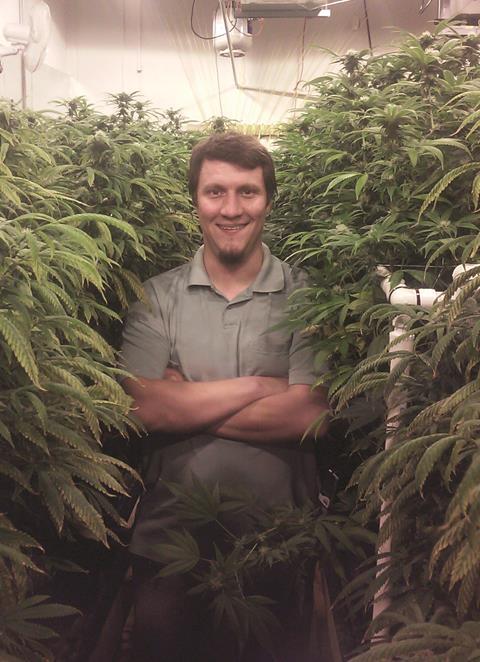 Pot luck
Working in the cannabis sector is the perfect fit for Pryor. He moved into the sector two years ago and now works providing advice to organisations and individuals worldwide. 'We address scientific challenges within the cannabis industry,' he explains. 'People come to us with scientific challenges like "the product I'm making is not the right colour," "I can't get it to be the right consistency", or "how do I get it into this form?"'
Although Pryor and his team don't carry out any of the chemistry themselves, they provide information to those who do, as many organisations that process cannabis do not have their own scientist on staff. Pryor's team of 10 colleagues also assist companies with purchasing equipment or building a lab. Customer demand is only set to expand following the 2016 US election, where California, Nevada and Massachusetts voted to legalise cannabis for recreational use (joining Alaska, Colorado, Oregon and Washington), while Florida and North Dakota voted to legalise use for medicinal purposes.
Pryor is also the founder and chair of the American Chemical Society's (ACS) Cannabis Chemistry Subdivision (CANN), newly formed in 2015. Today the subdivision counts almost 100 members, including cannabis extractors, analysts and regulators. Most members tend to be in industry, but there are also members from academia other consultancies. As membership is not restricted to the US, about 10% of members are based in other countries, reflecting the global nature of the cannabis industry. 'There's a lot of movement internationally,' says Pryor. 'It's absolutely not the case that the [career] opportunities are all in the US.'
CANN is part of the chemical health and safety division of the ACS, and provides a useful insight into the type of roles available for chemists that are looking to break into the industry. The two largest organisations represented in the group are companies that process cannabis – making oils and other by-products – and those that analyse the substance.
Factfile
Name: Ezra Pryor
Role: President, EZ Chemistry Consultancy
Based: California, US
CV: BA in Geology and Chemistry, University of Maine at Farmington, US, followed by work as a lab technician and supervisor at the University of Southern California and as a graduate student at University of Rhode Island, US. Set up his company, EZ Chemistry Consultancy in 2014.
High standards
In terms of what makes the cannabis industry interesting to work in, Pryor names a list of personal benefits. 'I get to be in an educational setting where people deeply appreciate what I bring to the table,' he says. He cites the people that he works with as an upside to the job. 'I've never met a more open group of people. There's a universal sense of altruism. It's a red flag if I have a client who doesn't have charity as part of their business plan.'
As a consultant, Pryor appreciates the flexibility of being able to dictate his own schedule. He tends to work with small- to medium-sized companies at a range of different budgets. 'We do see $1 million budgets [£810,000], and sometimes $2 million dollar budgets, but that's the cap. We see a lot of small budgets as well.' Despite this, he still finds his work to be fairly lucrative.
As a growing industry, Pryor does find that there is a varying degree of professionalism across the sector. And, although small, he suggests that in the US at least there always some legal risk involved with working in cannabis. 'If somebody was looking for a zero risk opportunity it would most likely be in Canada, Europe or South America.'
Budding interests
Pryor suggests that anyone looking to make a move into the cannabis sector should join CANN and volunteer as a way to make new contacts and networks. Pryor himself dedicated time to the group since he began campaigning for its existence via a petition in 2014. This listed a wide variety of potential roles for chemists in quality control and quality assurance positions stating that: 'Individuals may be in the cannabis industry as analytical chemists, water chemists, food chemists, agro chemists, extraction chemists, formulation chemists, natural products chemists, or pharmaceutical chemists.'
Yet despite the wide range of roles, there is a lot of interest to work in the area and competition can be fierce. It's also an industry where personal recommendations can – and do – count for a lot. 'Everyone knows that networking is very good practice when pursuing a job in any space,' Pryor says. 'But it's even more important in the cannabis space, because most of these jobs aren't advertised.'
Editor: Readers are reminded that cannabis is still considered illegal in many countries and US states. Readers should check their own national and regional laws before considering a career in the cannabis industry.