Trump administration reverses rule protecting states with legalised marijuana
The current uncertainty plaguing US cannabis policy could deter companies across the country from pursuing R&D or teaming up with academia to develop cannabis-based medicines, research industry advocates are warning.
Earlier this month, US attorney general Jeff Sessions rescinded guidance issued by the Obama administration that set priorities for federal prosecutors that allowed states with legalised marijuana to face minimal federal interference. Sessions was clear that his goal in reversing the so-called 'Cole memo' is to enable federal prosecutors to use 'previously established prosecutorial principles'.
Currently, those who engage in state-sanctioned medical cannabis programmes are protected from prosecution by the Department of Justice. However, this could soon change as the protections conferred by Congress are set to expire on 19 January.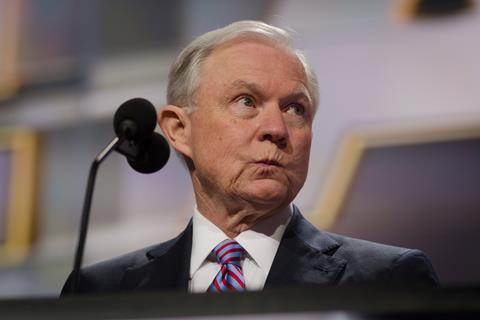 Not only did the Cole memo stop raids, it also incentivised states to increase regulation for medical cannabis programmes. All but four states have passed medical cannabis laws. Biochemist Jahan Marcu, chief scientific officer of the advocacy and standards organisation Americans for Safe Access, says that, since the Cole memo was issued in 2013, 15 states have created medical cannabis programmes. 'For a lot of people who are in the medical cannabis space, this is one of their biggest fears about Sessions – that he would rescind the non-interference cannabis policies of Obama,' says Marcu.
Marcu notes that some states require marijuana dispensaries to have a clinical director and if that individual holds an academic position they will not want to get into a legal conflict. 'If you are a chemist or pharmacologist teaming up with other researchers to do a study and develop some of these products into a botanical medicine, all you need is a letter from the US Drug Enforcement Agency (DEA) to your landlord and you'd lose everything,' he says. 'It creates much more uncertainty, especially since a lot of this research is dependent on grants and investments.'
Preparing for change
Before the Cole memo came into force in 2014, the DEA conducted over 500 paramilitary raids on cannabis labs, dispensaries and cultivation centres, and also seized assets, Marcu recalls. He fears the labs that are carrying out the cannabis quality control testing could be the first casualties of the new Trump administration policy. 'This could make a lot of people nervous,' he adds.
Marcu says his job is to make sure that people who work at cannabis characterisation, analysis and testing labs are prepared for law enforcement action. 'Now, more than ever, the industry will invest in employee training and regulatory compliance because they don't want to become a target,' he states.
These developments could actually empower the American Chemical Society's (ACS) growing Cannabis Chemistry Subdivision (CANN). 'If anything, it will strengthen our resolve – sometimes when it seems as though we have won, but we still have a lot of work to do, it is harder to get volunteers,' says CANN's founder and immediate past chair, Ezra Pryor.
'There is a push against science and intellectualism and data, and if we are in a position to promote facts and science, then that's great,' states Pryor, former president of EZ Chem Consultancy. 'It galvanises the people who are willing to fight for good science.'
Marcu agrees. He says CANN will hopefully serve as a critical resource for US chemists and science professionals to seek honest answers about cannabis amid the present turmoil.
At the ACS's upcoming March meeting in New Orleans, CANN will showcase 26 scientific presentations linked to cannabis. This represents a dramatic increase from the three that the then-fledgling subdivision assembled at the 2015 meeting.

Rebecca became the US Correspondent for Chemistry World in September 2014, based out of Washington, DC, after writing for the magazine on a freelance basis since 2007.
View full profile