Volcanologist Kate Saunders shares her latest adventures
Kate Saunders first realised that volcano science fired her up during a lecture as a first year geoscience undergraduate student at Royal Holloway, University of London, UK. 'I can remember thinking wouldn't it be really good if I could do that as a career,' she says, before quickly dismissing it as a pipe dream.
Her interest lay dormant for two years, until a field trip to her first volcano – Mount Ruapehu in New Zealand. The trip was organised by Victoria University of Wellington, where Saunders was on exchange as part of her degree course. 'The textbook suddenly came alive for me.' With her interest reawakened, Saunders approached one of the lecturers and asked if he was looking for PhD students. He was – and just like that Saunders took a major step towards her dream career as a volcanologist. 'Everything fitted together really nicely,' she remembers.
The floor is lava
Today, Saunders is a lecturer in volcanology at the University of Edinburgh, UK. Twenty years ago, however, she wasn't sure that academia was right for her. 'I decided at 18 that I didn't want to go to university,' she explains. Instead, she moved to Sweden to work as an au pair. After a year she dipped her toes into university life, studying remotely for a part-time for a certificate in natural sciences with the Open University. Enjoying the experience, she relocated back to the UK and enrolled full-time on a degree course in London.
Saunders' PhD was on, and her research niche remains, probing volcanic rocks to reveal the chemical fingerprints of past volcanic eruptions. 'The question everyone wants answered when a volcano starts to rumble is: is it going to erupt?' she explains. Often, they just remain dormant. Even so, every year about 60 volcanoes blow their tops. Some, such as Mount Etna in Italy, are repeat offenders; others, like the 1980 eruption of Mount St Helens, US, take the world by surprise. According to calculations by the University of Bristol, UK, volcanic eruptions have killed around 280,000 people since 1500, 2000 of these since the turn of the century.
Factfile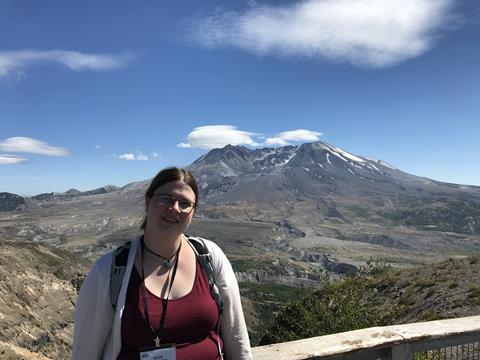 Name: Kate Saunders
Role: Volcanologist, University of Edinburgh, UK
CV: MSci geosciences, Royal Holloway, University of London, UK and PhD, geology, Victoria University of Wellington, New Zealand
'By looking at past eruptions, we can see if there are any patterns to look out for,' Saunders says. 'If a volcano starts to show signs of unrest today, is it going to days, months, years, or tens of years before a big eruption?' When magma erupts from a volcano it rapidly cools to become volcanic rock. This rock hosts tiny mineral crystals, and it is these that hold the chemical clues to the magma's past.
Sinabung, west of Java
To obtain the rock samples, once every 18 months Saunders goes out into the field. She has recently returned from a two-month sample-collecting trip to New Zealand. Other volcanoes she has worked on include Mount St Helens and those on the Indonesian island of Sumatra. One of these, Mount Sinabung, unexpectedly awoke from a 400-year dormancy in 2010. Prior to the 2010 eruption, no monitoring or studies had been carried out on that volcano.
'We take the samples back to the lab, where we either cut them into slithers or take the crystals out,' Saunders explains. 'We then use techniques such as scanning electron microscopy and electron probe microanalysis to look at the major and minor chemical compositions, which then gives us the data to look at all the different process that have occurred and the time scales.'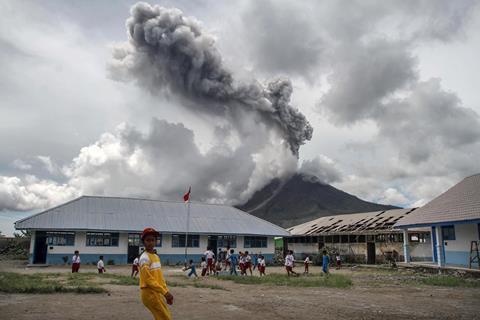 After her PhD, Saunders moved to the University of Bristol – postdoc positions are like gold dust in New Zealand. 'If I wanted to stay in academia I couldn't stay in New Zealand, so I decided it was time to come home,' she explains. Three years later she started applying for permanent academic positions, and landed two offers on almost the same day: one at the University of Edinburgh and another at the University of Uppsala in Sweden. She said yes to both, and spent the next five years running research groups in both locations.
As an academic, however, Saunders has more roles than just volcano researcher. More than half her time is currently spent lecturing undergraduates, and she also participates in regular outreach activities. 'We get funded to do our science by public money, so we should be telling the public all about what we're up to,' she explains. Going into schools is a favourite pastime. She has seen a growth in public interest in volcanology since the 2010 Eyjafjallajökull eruption in Iceland. 'People in the UK realised that volcanic eruptions could affect their lives and that perhaps we did need to learn a little bit more about them.'
When off duty, Saunders is an enthusiastic supporter of Girlguiding. She has been an active member for over 30 years and has held leadership positions for the past 20: as a Brownie leader in the UK, Scout leader in Sweden and a Ranger leader in New Zealand. She says that the skills learnt through this volunteer work have been instrumental to her academic career. 'A lot of my organisation, team work and leadership skills have all been learnt through Girlguiding,' she says. Brownie camps also prepared her for running residential field courses.
Saunders also credits her willingness to chase opportunities as instrumental in her landing her dream job. While volcanology academic jobs remain rare, there are many more volcano monitoring jobs around the globe both in government organisations, such as the British Geological Survey, or private companies.