Jeff Hardy reveals how to get a job in energy policy
'In the short and medium term, career opportunities in energy policy are strong,' says Jeff Hardy, senior research fellow at Imperial College London's Grantham Institute. The UK is one of the few countries in the world that has a climate change act, which requires a reduction in greenhouse gas emissions of 80% by 2050, based on 1990 levels – meaning Hardy and his colleagues have a lot of work ahead. 'Right now, even though lots of things feel like they are changing, we are only a few steps down the transformation journey and the pace of change is likely to increase.'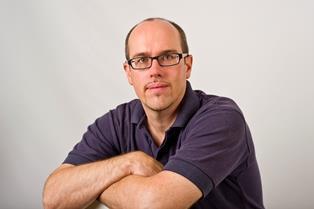 Hardy, who has a PhD in green chemistry from the University of York, is currently taking a career break from his position as head of sustainable energy futures at Ofgem, the UK's electricity and gas markets regulator, to undertake a 12-month research fellowship. He wants a chance to work on some of the ideas he had generated at Ofgem that go beyond energy regulation. Funded by the Economic and Social Research Council, he is examining the policy implications of society-led low carbon transformations and the impact of new business models.
At the same time, he also took on the role of acting head of science for the Intergovernmental Panel on Climate Change (IPCC) Working Group 3 technical support unit. 'It was quite operational, setting up processes, doing programme plans for the entire IPCC cycle and interacting with the other working groups and the IPCC secretariat,' says Hardy. The role also involved supporting the Scientific Steering Committee at IPCC Panel meeting in Bangkok in October 2016.
Chemical foundation
Hardy says a background in chemistry is a good place to start in pursuing a career in energy policy. In 2005, after a role at University of York which involved research, lecturing and developing educational materials, he was looking to move and saw a policy manager role at the Royal Society of Chemistry to set and deliver a strategy for environment and energy policy. 'I really went into it by accident,' he says. 'It combined my interests in the environment and energy policy and I found it absolutely fascinating.' This led to a four-year role at the UK Energy Research Centre, where his role involved transferring knowledge between UK researchers and the policy and business communities.
Roles representing academic or business communities make up a large proportion of jobs in energy policy. 'There are specialist expert organisations that are trying to push policy in certain directions; there are a whole range of other organisations with their own agendas such as Greenpeace; and there are the policy think tanks. There are also industry lobby groups. And then there is industry itself,' explains Hardy.
Factfile
Name: Jeff Hardy
Role: Senior research fellow
Based: Imperial College, London
CV: Energy policy specialist working at the Royal Society of Chemistry, UK Energy Research Centre and UK energy regulator Ofgem
Government man
The other side of the fence is working for government formulating policy – which Hardy was keen to experience. 'I wanted to try doing it myself and get my hands dirty! The most direct route is working in the Department for Business, Energy and Industry Strategy, but that's by no means the only route,' he says. In 2012 he moved to Ofgem, where he led the sustainable energy futures team, which investigates future regulatory responses to changes in our energy system, climate change adaptation and other future uncertainties. 'I was trying to keep the organisation with one eye on the future so we can start to work on the things that are inevitable before they actually happen.'
The diversity of policy roles and organisations makes it difficult to give simple advice on starting out in energy policy. Hardy says there are multiple ways, but keeping an eye on civil service jobs is a good idea. And although formal academic qualifications in energy policy are not essential, the academic energy policy community is very active and presents opportunities to move into the field. Masters degree programmes in energy policy or with energy policy options are on offer at a number of universities, including Imperial College London, and the University of Sussex.
Hardy says that while policy work can be seen as dry, energy policy is certainly a career for those interested in change, both in terms of technology and society. 'The future of the energy system is really all about how we live our lives, the lights in your home, its temperature, how we get around and the products we consume. Most of that will change in one way or another. It's a very exciting time to be working in policy and picking through the roots of that.'