Digital technologies coupled with Industry 4.0 thinking have the potential to transform the medicines supply chain, bringing life-changing drugs to patients more quickly
Interconnectivity is perhaps the ultimate goal of Industry 4.0: using technology to understand, connect and operate multiple processes and systems to achieve something greater than the sum of the parts. In medicines manufacturing we have plenty of digital sensors, devices or systems. What we are short of is Industry 4.0 thinking, which we need to drive a next-generation supply chain with lower waste, higher productivity and reduced inventory.
Developing connected digital systems that not only monitor but also control and respond to changes during the medicines manufacturing process will improve efficiency, reduce the manufacturing time and accelerate the development cycle of next-generation medicines. The Medicines Manufacturing Innovation Centre is a collaboration between CPI, the University of Strathclyde and founding industry partners GSK and AstraZeneca, with funding provided by UK Research and Innovation (UKRI) and Scottish Enterprise. The Centre focuses on maximising technology opportunities and enhancing production within the pharmaceutical supply chain. It aims to do this through a series of flagship 'grand challenge' projects, which advance emerging and disruptive technologies to address some of the industry's biggest challenges – and realise some of its greatest opportunities – for the benefit of patients.
Digital twins for tablet production
Assuring quality will always be a priority for drug manufacturers, with patient safety of paramount concern. Technology that can help to monitor and maintain quality standards can enhance the quality assurance process further.
The way that we make tablets has changed very little over the last hundred years, despite the enormous leaps made in other areas of medicines manufacturing within this timeframe. Incorporating continuous direct compression (CDC) into this process can improve efficiency, reduce waste and minimise batch-to-batch variability. This is the goal of the Centre's Grand Challenge 1, which aims to develop a CDC platform to produce oral solid dosage medicines, such as tablets, more robustly and efficiently. In parallel, the project will incorporate a digital twin. This is effectively the flight simulator of the tablet manufacturing process - it allows scientists to trial their formulations in silico before they head to the development labs. In the manufacturing space it can be the autopilot, providing enhanced feedback and control of the manufacturing operation, using real-time data to maintain control predictively, rather than retrospectively, to understand what could go wrong rather than what went wrong. This will be transformative, in terms of accelerating development, reducing the quantity of input materials – including expensive active pharmaceutical ingredients – and delivering a more efficient manufacturing process. It will also be cheaper.
Just-in-time medicines for clinical trials
Producing medicines for clinical trials represents a significant, but essential, investment for drug manufacturers. In order to ensure supply continuity of drug substance and drug products, medicines for clinical trials are often over-produced. In addition, manufacturing times can necessitate clinical supply forecasts predicted up to two years in advance. Novel techniques that facilitate a more responsive supply chain could reduce the need for excess product, and therefore the overall cost of clinical trials, with benefits to healthcare providers and patients.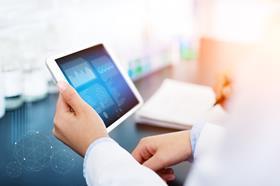 Digital systems, utilising 'just in time' manufacturing principles, offer the possibility of a supply chain that can respond to the challenges of drug production for clinical trials. This is the focus of the Medicines Manufacturing Innovation Centre's Grand Challenge 2. The project centres on the development of the pharmacy automation for clinical efficiency (PACE) platform, a digitally enabled, automated bottle packaging line that can fill tablets and capsules with custom amounts of drug compounds for clinical trials. The PACE platform will incorporate several technologies to enable multiple drugs with different formulations to be manufactured and packaged on the same line. These interconnected digital systems will use 3D tracking to record where the drugs are at every stage, feeding into a qualified person (QP) dashboard, which allows the QP to assess and release products in real time. This technology provides the QP with greater visibility at every stage of the process, dramatically accelerating the quality assurance process. For example, the production process could be halted before it even starts if quality criteria are not met, saving time and materials. A digital twin and advanced scheduling software will also be developed as part of this Grand Challenge, in order to improve efficiency of the production line.
When combined with automation and process analytic technology (PAT), this will significantly decrease the time from when a demand signal is received to the product being dispatched to the patient, particularly as multiple drugs can be manufactured on the same production line. These innovations will lead to greater availability of investigational medicines and adaptive supply strategies driven by the evolution of clinical study requirements.
Making novel therapies viable
It is clear that improving the efficiency of medicine production will free up time, money and resources that can be channelled into developing promising new drugs. Digital technologies can help accelerate the development of these medicines to make them viable. One example of this is oligonucleotides, short strands of synthetic DNA or RNA that can interfere with gene expression. Oligonucleotides have already shown potential for treating rare diseases and are now of interest for treating chronic diseases that affect much larger numbers of patients. However, the current manufacturing processes are inefficient and time-consuming.
digital technologies offer the potential to streamline processes and prevent wasteful steps
To unlock the potential of oligonucleotides, the Centre's newest project, Grand Challenge 3, aims to develop a cost-effective, sustainable and scalable manufacturing process through a collaboration between CPI, AstraZeneca, Exactmer, Novartis and UKRI.
Although only in its early stages, the need for digital approaches to accelerate the project's progress is clear. Initially, PAT and advanced automation will play key roles in enabling scale-up through a better understanding of the oligonucleotide manufacturing process. Once the scaled-up process is developed, digital twins will allow this process to be monitored, ensuring that it runs optimally and preventing problems before they happen. Digital tools will have a crucial role in optimising development as well as the manufacturing process itself, as work progresses to make the large-scale manufacture of this promising therapy viable.
Developing next-generation solutions
Across these Grand Challenges, and across medicines manufacturing as a whole, digital technologies offer the potential to streamline processes and prevent wasteful steps. They can codify multiple data sources to create useful information and predict what will go wrong before it actually goes wrong.
The challenge is how we apply these technologies, and prioritise and use the vast quantities of data available. This ambition will not be constrained by a lack of digital capabilities but rather by the ability to envision what we can do with these tools. In order to get the most value from the innovative digital technologies and our data lakes, we must shift our approach. Rather than developing tools and then thinking of applications, we must first identify what we want to achieve and then apply or develop the technology we need to achieve it. This will bring the medicines manufacturing industry to the leading edge of the interconnected digital revolution of Industry 4.0.

CPI is a UK-based technology innovation centre. Established to support the UK process manufacturing industry, CPI collaborates with universities, SMEs and large corporates to help overcome innovation challenges and develop next generation products and processes.
View full profile
Welcome to chemistry 4.0
1

2

3

4

5

Currently reading

Unlocking the future of medicines manufacturing with digital innovations

6