Herbert Fromm and Mark Hargrove
Springer
2012 | 364pp | £44.99 (HB)
ISBN 9783642196232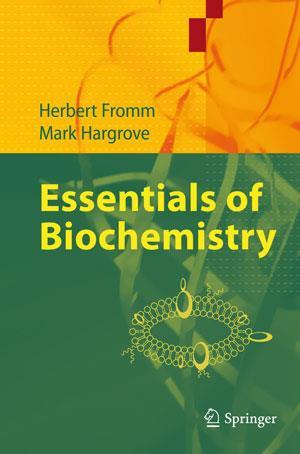 Essentials of biochemistry is aimed at undergraduate chemistry and biochemistry students with a specific interest in the subjects of cellular metabolism and enzyme reaction mechanisms.
Although it does not contain comprehensive information on the introductory topics in biochemistry that may be required for a complete newcomer to the subject, it does contain a brief overview of the 'essentials'. For example, chapters two and three briefly summarise the key biomolecules (eg amino acids, sugars and lipids) and concepts in protein structure that are required in order to understand the more complex topics covered in the later chapters.
Regarding enzyme function, the book covers chemical concepts such as stereochemistry, oxidation and reduction reactions, chemical kinetics and reaction mechanisms. It also provides good examples to illustrate these concepts.
Metabolism is also considered in some detail, with an introduction to the fundamental concepts that is developed in more depth in subsequent chapters. Discussions cover carbohydrates, lipids, amino acids and nucleotide metabolism as well as the citric acid cycle and photosynthesis.
In general, this book is well organised and illustrated, and clearly written throughout, making these complex subjects easier to understand for an undergraduate reader. Although it is focused in the areas of enzymology and metabolism, it would be a very useful addition to any biochemistry student's library.
Purchase Essentials of biochemistryfrom Amazon.co.uk.