John Browne
Weidenfeld and Nicolson
2013 | 279pp | £20
ISBN 9780297868057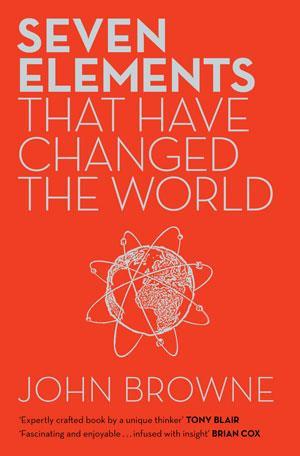 John Browne is a fellow of the Royal Society with experience of chemistry, engineering and running BP. Brought up in Iran and Singapore, he has travelled widely, observing and enquiring as well as dealing with oil exploration, production and disasters.
Seven elements that changed the world, completed in Venice, stimulates one's interest in many cultural aspects of life. While his story is personal, Browne acknowledges the participation of three researchers. And, as is the fashion, bound into the book are commendations from four famous people, none of them a chemist.
The 50 pages of footnotes, separated for each element, refer sometimes to books (beginning, like his pictures, with William Henry Bragg on structure). More often, each provides a couple of informative sentences on aspects of history, geography, business (not just BP) and even recent international politics relevant to the ore, extraction and application of the element.
Would one's choice of elements differ from Browne's? Carbon has the biggest chapter, embracing oil, energy, natural gas, smog and graphene. Iron has led to tools of war and peace as well as physical structures (Browne lived in New York in the 1970s), including oil-drilling platforms. There are particular tributes to Henry Bessemer (steel), Andrew Carnegie (philanthropy) and the Tata family (for both). The allure and symbolism of gold inspire sections on South America and gold standards. Titanium, valuable during the cold war, is better known as a whitening agent, while silicon is the basis of the digital world, commended for spreading information. An active photographer from the age of four, Browne devotes 20 pages to silver.
Under uranium, Browne summarises the early history of nuclear physics, the Manhattan Project and atomic energy for power in the UK (in which field Browne might have spent his career). Despite its excellent safety record (fatalities per Gigawatt-year), nuclear power has such a dread in public perception that Browne is pessimistic about its future; eventually, thorium may be one of the seven influential elements.
This book doesn't provide chemists much chemistry, but it will remind or teach them about many pertinent and significant stories. With its diverse collection of 88 well-produced and described illustrations, it should prove lively and engaging even for those with little science knowledge. Admired as a chief executive, as an author Browne has produced an admirable and entertaining book.
Purchase Seven elements that changed the world from Amazon.co.uk