A new analysis of scientific publishing costs across Europe reveals 'staggering' differences in the prices paid to the five biggest publishers.
The European Universities Association (EUA) found that overall expenditure by 26 European countries was €597 million (£515 million) in 2017. But 75% of that – some €451 million – was spent on subscriptions to journals published by the 'big five': Elsevier, Springer Nature, Wiley, Taylor & Francis and the American Chemical Society (ACS). Together they accounted for 56% of articles published.
As a group, the financial share that goes to the big five is almost 20% greater than what would be expected from their share of articles. The biggest discrepancy is for Elsevier: it had a 25% share of publications but 42.4% of costs. In contrast, Springer Nature had a 14.2% share of publications but an 11.8% share of costs.
The cost of publishing any single article can't be determined because of non-disclosure agreements, so the authors have established a proxy by dividing an individual country's consortium subscription expenditure by the total number of articles published with a given publisher in that country. The report's authors argue that this knowledge becomes more important as consortia seek to move from subscriptions to open access models.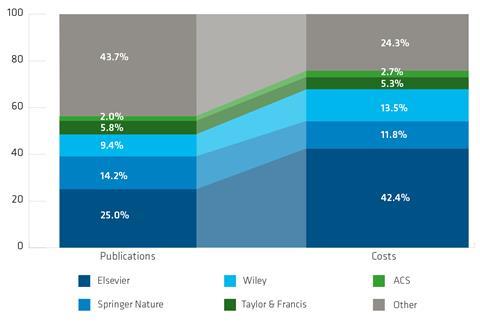 The resulting average 'price per article' came to €1526 across all 26 countries, with the big five charging on average €2050. Wiley and Elsevier had the highest median price of €2658 and €2642 respectively. There was huge variation across countries, from €600 to €2883.
The price per article also varies within the same publisher: for example Elsevier's lowest was just under €1400 while the highest were between €4000 and €5000. There were two outliers of €10,000 for the ACS, and €13,000 for Elsevier. It's not clear if these contracts are particularly pricey or if it's a result of fewer publications by researchers in these countries.
Ádám Dér, head of development at Hungary's Electronic Information Service National Programme, which has just negotiated an open access pilot with Elsevier, expects the move to transformative agreements will deliver transparency – and have the power to influence negotiations. Its 30 month agreement with Elsevier, will cost just over €13 million and provide open access for articles published after July 2019. Previously just 7% of approximately 1000 papers published by the country's corresponding authors were open access in 2018. However, as in Elsevier's first open access deal with Norway articles published in the prestigious imprints of Cell Press and Lancet are excluded.
Angeli Mehta is a freelance science writer with a research PhD, based in Edinburgh, UK
View full profile