2015 was a problematic year in the chemicals industry
Environmental impact
West Virginia, US, featured surprisingly regularly in 2015's chemical industry news. Bayer CropScience agreed a settlement with the US government over a fatal explosion at its pesticide plant in Institute in 2008. Meanwhile, Freedom Industries had its bankruptcy case approved there following a major chemical spill in 2014. Finally, a jury decided that the presence of DuPont's perfluorooctanoic acid (PFOA) in drinking water in the 1990s contributed to a woman's kidney cancer.
Add to these cases a spate of fatal explosions at chemical plants – in China and elsewhere – and 2015 should be remembered as a year when the chemical industry was sharply reminded of its social responsibility.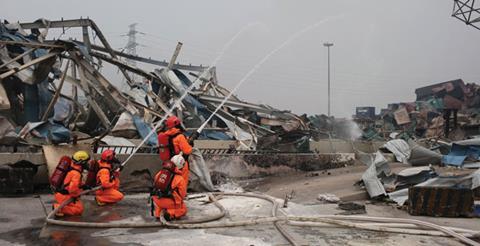 Chinese officials have vowed to overhaul work safety, and there are plans to relocate or upgrade almost 1000 chemical plants close to residential areas. The moves follow public outcry after a number of explosions and fires at chemical facilities. In April, an explosion at a para-xylene plant in Fujian Province injured at least 12 people. In August, two explosions at a chemical warehouse in the north-eastern city of Tianjin killed 173; the facility, owned by Rui Hai International Logistics, had stored ammonium nitrate, potassium nitrate, sodium cyanide and calcium carbide.
Just 10 days after the Tianjin disaster, a fire broke out at a Runxing Chemical plant producing adiponitrile in Zibo, Shandong province. Shortly after, news broke of an explosion at a Shandong Binyuan Chemical plant that killed 13 workers and injured 25 in Dongying. Then, in October, a warehouse containing chemical ingredients for pharmaceuticals and plastics burst into flames. Hong Kong-based NGO China Labour Bulletin reported common factors in all incidents, including a lack of maintenance and routine safety precautions, poor training and a disregard for work safety laws 'in the push for higher productivity and profit'.
Across the globe, Bayer CropScience agreed to pay $5.6 million (£3.7 million) in a settlement with the US government following an explosion that killed two people and injured eight others at its West Virginia pesticide plant. Under the settlement, Bayer will pay a $975,000 civil penalty and put in place environmental projects worth more than $4 million. In the years since the explosion, the company reports working steadily to improve its operating procedures.
Freedom Industries finally had its bankruptcy case approved in October 2015, after an earlier rejection. The company suffered a fatal blow following a leak of (4-methylcyclohexyl)methanol from a storage tank into the Elk River in Charleston, contaminating tap water for 300,000 people. The approved bankruptcy plan now ends negotiations so that Freedom's remaining assets and insurance money can be used to finish clearing up the Elk river site. Any money left over will go into a pot for those claiming losses.
PFOA in the water
In October 2015, an Ohio jury found DuPont liable for a woman's kidney cancer, diagnosed in the late 1990s. In the first of a set of 3500 lawsuits, Carla Bartlett was awarded $1.6 million after the jury decided that PFOA (C8) in drinking water had contributed to her kidney cancer.
Once used to make non-stick coatings, PFOA is highly persistent and has been phased out for health and environmental reasons. As long ago as 2005, the US Environmental Protection Agency (EPA) fined DuPont an unprecedented $10.25 million for allowing PFOA to enter water systems from its plant in Parkersburg, contaminating drinking water in Ohio and West Virginia. DuPont also agreed to pay $6.25 million for two environmental projects.
At the time, DuPont convened a scientific panel, which reported probable links between exposure and six disease types, including thyroid disease, testicular cancer and kidney cancer. One patient in each category is suing the company individually, in a series of test cases.
2015 should be remembered as a year when the chemical industry was sharply reminded of its social responsibility
Although the suit is against DuPont, the costs will be borne by its spin-off Chemours, which inherited the liability. Chemours, which began operating in July 2015, inherited 37 plants and is now the world's biggest titanium dioxide producer, as well as making a range of fluoroproducts, including Teflon. The company estimates that it will need to spend $14 million to remove PFOA pollution from the Parkersburg site. It also needs to pay for local residents' medical monitoring and is preparing for more hefty personal liability claims.
With titanium dioxide prices at a four-year low, thanks to global oversupply, Chemours rapidly put in place a 'five-point transformation plan'. The goal is to cut $350 million in costs by 2017. This includes closing its Edge Moor titanium dioxide plant near Wilmington, Delaware. Chemours has also agreed to sell its aniline facility in Texas to Dow Chemical for approximately $140 million. In December, the company announced plans to shut down its reactive metals business, halting sodium and lithium production at a site in Niagara Falls.
Before the PFOA ruling, speculation had been rife that US private equity firm Apollo Global Management was interested in buying Chemours, with the intention of then pulling in other titanium dioxide businesses. Apollo was also said to have an eye on Chemours' rival Tronox, whose value has also fallen this year. Tronox has plans to reduce workforce costs by $45 million in the first half of 2016.
Proxy process
DuPont itself has had an interesting year. In May 2015, its then chief executive Ellen Kullman beat off a challenge from activist investor Nelson Peltz, who was intent on getting a board seat. DuPont denied him a place at the top table when shareholders voted to appoint all 12 of the company's nominated board members. With his investment group Trian Partners, Peltz owns a large number of DuPont shares. Despite losing his proxy battle, Peltz is reported to be maintaining pressure on DuPont to break into smaller companies.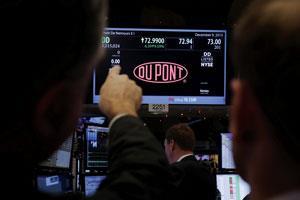 Kullman stood firm against Peltz, strongly asserting that DuPont was on the path to improved long-term performance with its significant cost-cutting and Chemours spin-off. So it came as something of a surprise when Kullman decided in October to step down from her role. At the time, DuPont cut its earnings forecast and announced its intention to accelerate a cost-cutting plan aiming to save $1.3 billion by the end of 2016. DuPont then named Edward Breen as chief executive.
Breen, who joined DuPont in February 2015, is known for breaking up Tyco International while at the helm leading analysts to suggest imminent structural reforms at DuPont.
Sure enough, in mid-December, DuPont and US rival Dow Chemical agreed to a gigantic merger deal, with the stated aim of breaking the resultant behemoth into three more specialist firms after a couple of years.
Andrew Liveris, chief executive of Dow Chemical, had already voiced intentions to sell the company's agriculture business, as Dow shifts its focus towards higher-margin products.
Dow has also attracted the attention of well-known activist shareholder Dan Loeb, who advocates hiving off the company's commodity chemicals and plastics businesses. Loeb's investment firm, Third Point, is Dow's sixth-largest investor and has two seats on Dow's board.
'Shareholder activism will likely continue to force portfolio realignment, particularly in the speciality segment,' say PricewaterhouseCoopers chemical experts Pam Schlosser and Antoine Westerman. Weakness in some sectors, including agricultural chemicals, could 'trigger another wave of consolidation', they add.
Aside from the Dow–DuPont union, 2015 saw the usual flurry of mergers and acquisitions. The year started with US company Albemarle's acquisition of Rockwood Holdings, a producer of lithium products.
Towards the end of the year, Merck KGaA of Germany acquired Sigma–Aldrich to boost its lab supplies business. Merck cleared an antitrust hurdle when Sigma agreed to sell parts of its solvents and inorganics business in Europe to industrial group Honeywell for $119 million. Following the deal, Merck will have 50,000 employees in 67 countries.
In November, French industrial gases supplier Air Liquide announced plans to acquire Airgas, a US distributor, for more than $13 billion. However, none of these deals are as large as the merger between pharma giant Pfizer and Irish-headquartered Allergan. Pfizer will keep its operational base in the US, with the $160 billion deal partly intended to reduce Pfizer's tax bills.
Brazil blamed
When DuPont lowered its earnings forecast, it joined a host of others to lay partial blame for poor performance on the currency collapse and recession in Brazil. 'The outlook reflects continued strengthening of the US dollar versus currencies in emerging markets, particularly the Brazilian Real; a further weakening of agricultural markets, primarily in Brazil; and continued weakness in emerging markets,' stated the company's third quarter report.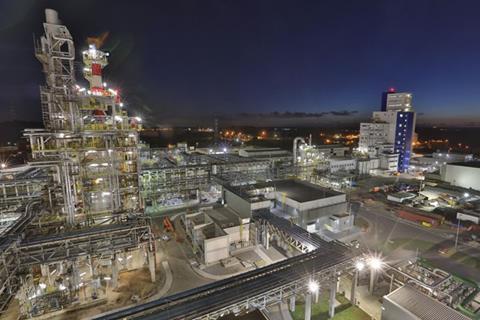 German company BASF also pointed to the Brazilian recession when it reported a weaker than expected third quarter. Brazil has been a strong sales focus for some BASF businesses, including agricultural products, care chemicals and coatings. The company has also invested in the country, recently building a new care chemical plant for acrylic acid and superabsorbents in Camacari. Netherlands-based DSM estimated that the weakening of the Real affected its third quarter earnings by about €5 million (£3.6 million), largely because of its Brazil-based animal nutrition business, Tortuga, which it bought in 2013.
Meanwhile, Bayer reported that its CropScience business is showing a weaker performance in Latin America. Although reporting only a 'slight sales increase' in the region; its highest sales were in the Asia–Pacific territory.
Bayer is reorganising to focus on its life sciences businesses. From January 2016 it will have three divisions: pharmaceuticals, consumer health and crop sciences. 'Each business is characterised by different cycles and risks, ensuring that our portfolio is diversified and balanced,' explained Marijn Dekkers, Bayer's chairman.
As part of the new focus, Bayer has separated its polymer business, Bayer MaterialScience, so that it is 'legally and economically independent', although remaining a Bayer subsidiary. Now named Covestro, the company floated on the stock market in October 2015. 'Independence will enable us to bring our strengths to bear in global competition more quickly, effectively and flexibly,' said Covestro's chief executive Patrick Thomas.
With the rise of shareholder activism, could 2016 be the year when others follow Bayer's example, and set segments free?