Ambitious plan to double research spending relies on tapping the private sector to provide two-thirds of the money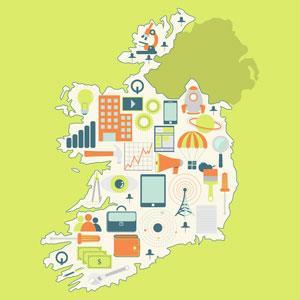 A new science strategy crafted by the Irish government is promising to boost national research funding to 2.5% of GNP, up from 1.8%, by 2020. This will increase investment from €2.9 billion (£2.1 billion) in 2014 to over €5 billion on current GNP projections. Around two-thirds will come from the private sector, with the remainder from government.
While the Innovation 2020 strategy is enterprise focused, public spending would rise from between €600 million and €1 billion over the next five years. 'This is a clear government commitment to increase expenditure on R&D, both public and private. We want one to leverage off the other,' says Mark Ferguson, head of Science Foundation Ireland (SFI), the main public science funder. 'In real terms, it's a near doubling of the research budget.' Public spending on R&D in Ireland fell from a peak of €930 million in 2008 to €722 million in 2013, a 22% drop.
The increased public spending on R&D comes on the back of better than expected economic growth, with Ireland's economy growing 7% in the first 9 months of this year. Tax-based initiatives will be used to promote R&D in Ireland and a target of securing €1.25 billion from the European research programme Horizon 2020 has been set. The country's network of large research centres will be developed further to meet the needs of enterprise. At least 30% of their funding must now come from industry.
Targets have been set to increase the percentage of PhD researchers moving from SFI research teams to industry from 25% in 2014 to 35% by 2020. 'Around the world, most people coming out of the research system go work in the private sector and that is where we want them to go,' says Ferguson. 'Our industry fellowship programme will fund researchers to spend one year working on a collaborative research project with any company, anywhere in the world.'
The Irish government also wants the number of students enrolled in PhDs and research masters in disciplines aligned to enterprise and national needs to increase by 29%. 'The number of PhDs has dropped considerably in recent years,' says organic chemist Patrick Guiry at University College Dublin. 'Across chemistry, there are many groups where PhD students were numbering six to eight, and is now down to two to three, so the capacity is there to build that back up again.'
After a period of austerity, the commitment to increase funding is a very positive step forward
SFI traditionally shies away from funding astronomy, theoretical physics or pure mathematics. A new competitive fund for frontier research is part of the strategy and will fund such areas. Ireland will also open negotiations to join Cern and the European Southern Observatory. 'There is a significant emphasis on enterprise as a key component of the research strategy, but in fairness they are also now including frontier research and the language is not too dissimilar from Horizon 2020,' says Guiry, who was among a group of researchers who had argued for basic not just applied research to be funded.
Ferguson says prioritising during the downturn was the correct strategy and science funding fared relatively well. 'Look at our performance in Horizon 2020. For the first time this year four institutions in Ireland broke into the top 50 institutions in drawing down funding out of some 7500 around Europe,' he notes. 'If you look at Spain, which cuts its science budget more substantially, all the Spanish institutions fell out of the top 50.'
'This commitment to increase funding is a very positive step forward, after a period of austerity,' says Ned Costello, president of the Irish Universities Association. 'The level of commitment and ambition was a positive surprise.' Costello adds that 'like all strategies they stand or fall on the implementation and we need to see the actual strategy intent in the document turned into action and to see the funding'. 'The devil is in the detail,' says Guiry, 'but there are lots of positives. It looks like all boats will be lifted.'