German chemical giant's exit from the materials world will help fund its crop and healthcare ambitions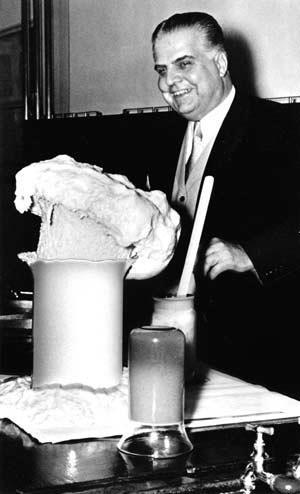 The association between the name Bayer and polymers like polyurethane and polycarbonate is set to end after almost 80 years. The German chemical giant has announced plans to spin off its MaterialScience business as a new company within 12–18 months.
The new firm will comprise 16,800 current Bayer employees and will generate around €11.3 billion (£8.9 billion) in annual sales, based on 2013 figures. Its pioneering plastics business, in which polyurethane was first synthesised by Otto Bayer in 1937, is expected to help create Europe's fourth largest chemicals firm. Bayer, now concentrating on healthcare and crop science, will have nearly 99,000 employees, generating €29.3 billion in sales.
The move follows lengthy speculation that Bayer was looking to sell as it increasingly concentrates on life sciences. It recently acquired Merck & Co's consumer care business unit and Norwegian pharmaceutical company Algeta, for $14 billion (£8.3 billion) and $2.9 billion respectively, leaving it with heavy debts. Consequently Werner Baumann, Bayer's chief financial officer, told market analysts during a conference call on 18 September that the company's 'financial firepower right now is very limited'.
Chief executive Marijn Dekkers says that the spin-off will ensure both the new company and the remaining Bayer life science operations have enough money to develop their portfolios. He highlights that Bayer wants to concentrate resources on expanding its life sciences R&D and manufacturing capacities and making further acquisitions. Funds from the flotation will help with this and/or be used to pay off Bayer's debts.
Meanwhile, the materials arm also needs investment to keep pace with competition from new companies and more efficient plants coming online, and changes driven by US shale gas. 'Keeping both businesses in one Bayer company poses a tremendous challenge for the MaterialScience business,' Dekkers told market analysts. 'It always has to compete with the life science businesses for investment funding. Those businesses offer consistently better returns, and that's why we decided to separate MaterialScience from Bayer.'
Rob Outram, director at chemical and polyurethane expert IAL Consultants, highlights that Bayer MaterialScience's profitability has also recently been hit by unanticipated plant closures. He adds that the advantages of combining activities in fields as far apart as building insulation and gene therapy in one company are limited. 'It's very difficult to integrate two dissimilar businesses – that's why it's so easy to split them off as well.'
Mike Ward from Datamonitor Healthcare emphasises that this decision is part of a rise in divestment activity among life science businesses. 'The cost of developing and maintaining pharmaceutical portfolios means it is difficult for companies to have broad coverage,' he underlines.