New government offers the promise of liberating government scientists as well as research agencies
Canadians voted for change on 19 October in an election that saw a Liberal Party victory, and many of the nation's researchers and science groups are applauding the power shift. Justin Trudeau, the prime minister-designate, has pledged not only to reverse the perceived muzzling of government scientists under the previous administration, but also to create a new government office to safeguard science.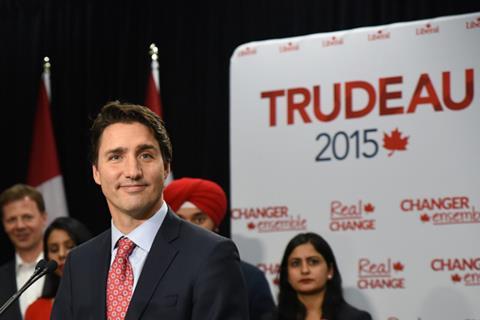 There will likely be a shift in the Canadian government's target research areas towards areas such as green energy and away from fossil fuels, observers say. In addition, they expect that the Trudeau government will be more hands off when it comes to the science that it funds – giving money to the granting councils and trusting them to disburse those funds via peer review. This would be a departure from outgoing prime minister Stephen Harper's Conservative government, which many in the research community accuse of centralising funding and basing regulatory decisions more on politics than on quality science. Harper resigned as the leader of the Conservative Party late on 19 October.
'The way that science is funded – the politicisation of science – will be less of an issue for the next while,' says John Brennan, a chemistry and chemical biology professor at McMaster University in Ontario, Canada, who directs the school's Biointerfaces Institute.
New science advice
Trudeau and his Liberal party have promised to appoint a chief science officer similar to the national science adviser position that the Harper government eliminated in 2008. Canada's new chief science officer would report to the prime minister and ensure that government science is available to the public, that all the country's scientists are able to speak freely about their work and that scientific analyses are considered when the Canadian government develops policy. The Trudeau government has also said that it will create a central online portal for government-funded scientific research to enable greater public access.
The new government's commitments reflect the current woeful state of public science in Canada
Scientists accused the Harper government not only of introducing increasingly controversial policies over the last nine years, but also cutting funding from key government research projects. For example, the Experimental Lakes Area in Ontario – a unique freshwater research facility in north-western Ontario – was defunded in 2012. In the end, a provincial government rescue has allowed a scaled-down operation to continue. Over 2000 federal scientist jobs are estimated to have been eliminated during Harper's tenure.
'Scientists, who are very difficult to mobilise politically, have been protesting,' says Lynne Quarmby from Simon Fraser University in Burnaby, British Columbia, who chairs the school's department of molecular biology and biochemistry. Quarmby, who ran unsuccessfully as the Green Party candidate for Burnaby North-Seymour, says the Harper government has motivated movements such as the science advocacy group Evidence for Democracy and the Science Integrity Project. 'These are scientists saying we need to speak up because science in Canada is in deep trouble,' she states.
Starved science
Quarmby describes basic scientific research in Canada as being at 'starvation levels'. In institutions such as the Natural Sciences and Engineering Research Council of Canada, she says that 'more and more of our research must be tied to an industrial partnership', often to the detriment of more basic, curiosity-driven research.
However, the Harper administration contended that its translational research focus was justified. 'We are very strong in Canada on basic research,' says former science minister Gary Goodyear, who has just lost his Conservative seat. 'Where we fall down sometimes as compared to other countries is moving the knowledge that we discover out of the laboratories onto the factory floor.'
The Liberals were not unique among opposition parties in their pledges to reverse unpopular decisions under Harper and back evidence-based policy. However, University of Ottawa associate biology professor Scott Findlay notes that science commitments are rarely made during elections. 'These commitments reflect the current woeful state of public science in Canada, as well as increasing public understanding of the critical role played by public science,' he says.
Very different vision
The Liberals offer quite a different vision for the Canadian economy than the Conservatives, planning to run short-term budget deficits to increase government spending on public infrastructure, and to return the country to a balanced budget in 2019–20. The party has committed to C$25 million (£12 million) in funding for National Parks and reversing budget cuts to government ocean science and monitoring programmes.
In addition to proposing initiatives to increase business investment in research and development, the Liberals want a tax credit, and will invest C$200 million annually to support innovation in the forestry, fisheries, mining, energy and agriculture sectors. Public science is particularly important in Canada, where the private sector funds a much lower proportion of research than most industrialised nations.
The real test will be to see how quickly the new government will move on key policy issues without national consensus
Harper's robustly pro-oil industry position, coupled with the nation's withdrawal from the Kyoto Protocol and failure to regulate emissions from oil and gas go hand-in-hand with cuts to clean energy and climate science programmes under his tenure, critics argue. Climate and energy policies are likely to change rapidly under a new Liberal government, with more stringent environmental reviews of oil pipelines, cuts to fossil fuel subsidies and a large boost to renewable energy projects. The new government will meet with provincial governments ahead of the Paris climate conference in December to consider new national emissions targets.
Science policy expert and former federal scientist, Paul Dufour, an adjunct professor with the University of Ottawa's Institute for Science, Society and Policy, says the Liberal Party platform has made several promises on clean energy. These could mean greater roles for green chemistry and the chemical industry in areas such as biofuels, algae conversion and natural gas.
Provincial governments own Canada's natural resources, with fossil fuel production largely in Alberta and Saskatchewan. Energy production is a major part of the Canadian economy. Trudeau has committed to set up a C$2 billion fund to help the country transition to a low carbon economy, but meanwhile he is not expected to withdraw support for the proposed Alberta to Texas Keystone XL oil pipeline.
Chemical industry's take
Incoming president and chief executive of the Chemistry Industry Association of Canada (CIAC), Bob Masterson, recently told Chemistry World that rapid policy decisions by Canadian governments and retailers, without sufficient consultation with industry, are not advantageous or based on sound science. He described missed opportunities for the Canadian chemical industry to engage with regulators, coupled with a lack of coordination between various tiers of Canada's national and regional regulations. On key issues, such as Canada's Chemical Management Plan, global trade and maintaining competitive corporate tax rates, Masterson says the CIAC believes the liberal positions represent continuity rather than change from the previous government.
While Liberals have indicated a desire to work with their provincial counterparts on many key policy issues to increase harmonisation across jurisdictions, Masterson suggests achieving a national consensus on key issues such as climate change, energy policy and transportation will be very difficult.
'The real test will be to see how quickly and how far the new federal government will move on these and other issues without that consensus,' Masterson said.