Government plans to turn scientific body into a 'tool for industry' leading to fears basic research will be sidelined
The two-year transformation of Canada's National Research Council into a 'toolbox for industry' is underway, following last week's announcement by the science and technology minister, Gary Goodyear, that 'The NRC is open for business.' But does this new commercial direction leave the NRC 'closed' to basic research?
Speaking in Ottawa, Goodyear stressed the government organisation's new role as partners for 'Canadian industries in need of research support', with its success to be judged by 'the success of its clients and partners'. The shift away from basic research has already been accompanied by a precipitous 73% fall in published research by NRC scientists in just two years.
Cathleen Crudden, president of the Canadian Society for Chemistry, and a chemistry professor at Queen's University, Kingston, tells Chemistry World: 'If we can involve new industrial and especially international partners in Canadian research, that will definitely be an advantage.' However, she believes that research will no longer be about doing the best and biggest science. 'This is always a mistake,' she says. 'If we want to succeed in science and technology, we need to always strive to answer the biggest, highest impact questions. If we don't take the lead on answering the big questions, then we will be the ones buying technology, not selling it.'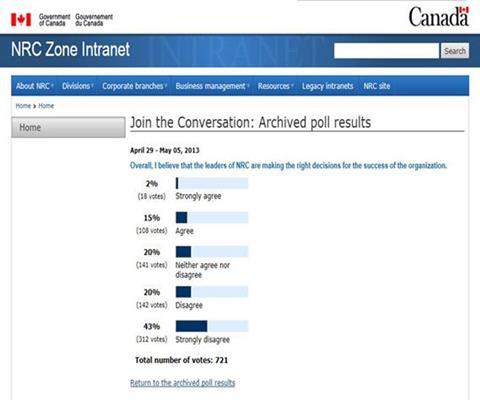 Looking back
The 97-year-old National Research Council (NRC), which had a budget of C$847.6 million (£546 million) in 2011–12, down 15% on the year before, started out as a small R&D advisory body for government, but quickly became a driver of commercial innovation in the early 1930s. The organisation's heyday lasted into the 1960s, when its scientists were behind inventions including the pacemaker, aeroplane's black boxes, the caesium beam atomic clock and canola.
The government's plan to turn the NRC into a concierge service for business is short-sighted
But according to Goodyear, the NRC subsequently became less effective, neither 'supporting, nor responding to, the shifting demands and needs of industry'. He paints a picture of disparate institutes, each independently pursuing their own interests and activities. The NRC's role in university funding for the natural sciences was handed to the Natural Sciences and Engineering Research Council of Canada (NSERC) in 1978.
NRC president John McDougall has been implementing a shift away from basic research to more industrial relevant research since 2011, and a further C$121 million is to be invested in the transformation over the next two years.
The innovation gap
Studies have repeatedly documented that business innovation in Canada lags behind other highly developed countries. The moves to streamline the NRC are in line with recommendations from a recent expert panel report, Innovation Canada: a call to action.
Crudden says that many different metrics show Canadian science punches well above its weight and is remarkably cost effective. 'However, the "innovation gap", as it is being called, is certainly something that is receiving considerable discussion of late and the government should get credit for trying to solve this important issue to improve the industrial side of the equation,' she says. Nevertheless, she says that if Canada wants to succeed globally, strong investment at both ends of the spectrum – basic and applied – is needed.
Goodyear has pointed to Germany's Fraunhofer Institutes as a possible role model for the new look NRC. 'In Germany, the government invests in Fraunhofer Institutes – dedicated institutes that fund applied work,' says Crudden. 'But they also have world-class Max Planck institutes for basic research.'
A war on science?
Some Canadian commentators suggest that the conservative Harper government is anti-science. Indeed the closing of the Experimental Lakes Area – a victim of cuts to research spending on the environment, the current investigation by the Canadian Government's own information commissioner into the muzzling of scientists and the changing focus of the NRC are symptomatic of upheaval and dissent over science policy.
'The government's plan to turn the NRC into a concierge service for business is short-sighted, misguided and unbalanced,' says James Turk, executive director of the Canadian Association of University Teachers. 'This government has consistently ignored the evidence that good science doesn't emerge from political diktats or by fettering research to immediate market needs. It comes from scientists being able to pursue what is scientifically important.'
'It is disingenuous of minister Goodyear to suggest that universities will pick up the slack left by the abandonment of basic science at the NRC because his government has drastically cut back funding for fundamental academic research,' Turk adds. Crudden takes issue with what she says is an oversimplified view of pure versus applied research. 'Many researchers at NRC and in universities are already involved in industrial partnerships carrying out applied work,' she says. 'We need to make sure that both ends of the spectrum are funded as much as possible in order for Canada to continue to be a leader in science and engineering.'
Major funding streams for pure science, such as the NSERC discovery grant programme, are already under pressure and have not risen for several years. Its scholarship programme for young people is notably underfunded, which Crudden says is 'a serious problem'. 'Adding money to an existing programme is not something that is sexy, but it is important.'