CF Industries looks to have won the turf wars after its $4.7 billion bid beats Yara out of the bidding for Terra
The battle for control of much of the US nitrogen and phosphorus fertiliser manufacturing capacity appears to have finally come to an end after Terra Industries backed out of a merger deal with Yara and accepted a $4.7 billion (?3.1 billion) takeover bid from CF Industries.
The deal will form the world's second largest producer of nitrogen fertilisers, behind Yara, and seals a courtship that has lasted over a year and tempted various other suitors to try their luck. During a convoluted fight for control of the US fertiliser industry, the 'turf wars' have generated more excitement and speculation about the fertiliser industry than many would have imagined possible.
Paul Kurias, director of ratings for market intelligence firm Standard & Poor's, told Chemistry World that 'this acquisition extends a decade of consolidation in the US nitrogen fertiliser industry, but the size of these companies means that this is a bigger event than most in this industry.'
US-based CF made its original $2.1 billion offer for Terra in January 2009, in an attempt to gain access to Terra's industrial customers, complementing its own focus on agricultural customers and leading to a more diversified customer base.
However, the bid was firmly knocked back by Terra's board of directors, who believed it substantially undervalued the company. And while the ink was still drying on Terra's rejection letter, Canadian rival Agrium lodged a stock and cash offer for CF that valued the firm at $3.6 billion.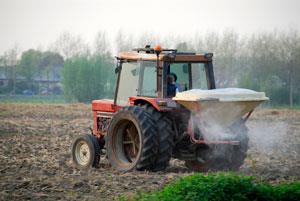 A bitter war of words ensued, and despite a number of increased bids being made neither company made much headway with their targets' boards of directors. CF went so far as to buy a 7 per cent share of Terra through the stock markets in a bid to get a say in the control of the company.
Then in January, CF withdrew its offer for Terra, with Stephen Wilson, CF's chief executive, stating that 'it is clear that an acquisition of Terra now would require a significant increase in our offer, given the substantial uplift in equity values in the fertiliser sector.'
'Over the past ten years there has been a big growth in demand for corn, the production of which consumes a lot of nitrogen fertiliser, and this has certainly helped the industry,' says Kurias. 'The fundamentals of this sector are extremely strong and this has helped push up the valuations of these companies. 2008 was a record year for both CF and Terra - the increasing demand for food means the outlook for the sector is very favourable,'
The favourable outlook led Agrium to increase its bid for CF to $5.43 billion. And with CF out of the race to buy Terra, Agrium's bid for CF looked set to succeed - especially as it had convinced around 62 per cent of the company's shareholders to sell their stock to Agrium. And when Norwegian fertiliser giant Yara announced that it had agreed a $4.1 billion deal to takeover Terra the 'turf wars' looked to be at an end.
However, with CF now realising that Terra was for sale and that it could possibly still avoid being taken over by Agrium, it tabled a bid of $4.7 billion - more than doubling its original offer. 'We withdrew our prior offer because we believed that Terra was unwilling to agree to a sale. Now that Terra is for sale, we have made an offer that is superior to Yara's,' said Wilson.
Terra's board of directors agreed the bid was superior and decided to pay Yara the $123 million break-up fee to terminate the existing merger agreement and tie the knot with CF, scuppering Agrium's attempt to buy CF in the process.
Matt Wilkinson