Winter destocking worsens impact of recession
Chemical companies around the world were forced to take drastic measures in December in response to the slump in demand for chemicals caused by the global economic crisis.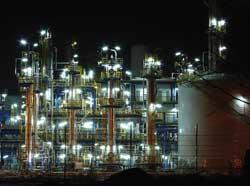 On 8 December, US-based Dow said it would slash 5000 jobs, 11 per cent of its workforce, and temporarily halt production at 180 plants. 5 days earlier, rival company DuPont had announced its own cuts: 2500 jobs, around 4 per cent of its global workforce, and a temporary closure of more than 100 plants. LyondellBasell, Sabic and Praxair have also all cut output, slashing 5100 jobs between them.
On top of the full time job losses, 4000 contractor positions will be lost at DuPont and 6000 at Dow.
The companies say the cuts will reduce their working capital - the amount of money they need to operate - amidst fears that temporary cashflow problems may not be met by dried-up credit markets.
DuPont says it will principally cut jobs from those business units that make chemicals used in the automotive and construction industries, and will reduce its working capital by $1 billion.
Dow's restructuring plans will reduce its working capital needs by around $2.5 billion, with part of those savings from a $600 million reduction in capital spending - investment in property and equipment.
Dow chairman Andrew Liveris assured investors that the company 'will not cut spending at the expense of growth [and] will continue to fund R&D spending to drive innovation'.
Idle hands
German-based BASF, while not dismissing workers, said on 19 November that it would temporarily shut down 80 plants and cut production at 100 others, essentially reducing its production capacity by between 20 to 25 per cent. Around 20,000 of BASF's 95,000 global workforce will be affected by shorter working hours.
'BASF are experiencing that stomach-churning moment where, for a period, demand seems to stop,' says Paul Hodges, chairman of chemical industry consultancy International eChem.
With oil prices rising, customers had bought ahead, acquiring high levels of stock, says Hodges. As oil prices - and consumer demand - have plummeted, these companies are now slashing their inventories, and have simply stopped buying.
Hodges says he is surprised that the companies have waited so long before cutting back production. 'If you look at the key sectors - automotive and housing - they've been in very bad times for over a year and things are only getting worse.'
Matt Wilkinson