The Trans-Pacific Partnership could raise the price of medicines, especially in developing nations
The far-reaching Trans-Pacific Partnership (TPP) trade agreement was finalised on 5 October by leaders from the US and 11 other Pacific rim countries, but there has been backlash.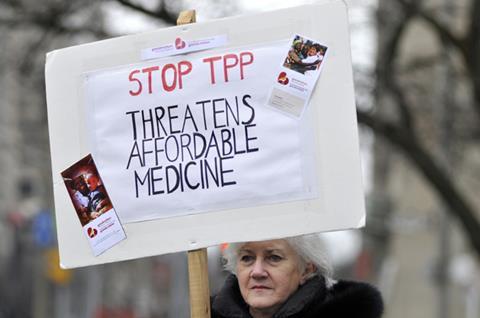 Médecins Sans Frontières (MSF) and other organisations argue that the agreement, which has been years in the making, caves to the demands of multinational drug companies and will raise the price of medicines for millions by unnecessarily extending monopolies and further delaying price-lowering generic competition.
President Obama said this final TPP agreement 'levels the playing field' for US farmers, manufacturers and others by eliminating more than 18,000 taxes that various countries put on US products, but others expressed opposition. 'The big losers in the TPP are patients and treatment providers in developing countries,' stated Judit Ruis Sanjuan, a US manager and legal adviser for MSF.
Although Sanjuan acknowledged that the text has improved over earlier versions, she said the TPP 'will still go down in history as the worst trade agreement'. She suggested that developing countries and others will be forced to change their laws to incorporate abusive intellectual property protections for pharmaceutical companies.
This is not the first time that such concerns have been raised. In May, a leaked draft of the TPP prompted the Foundation for Aids Research to warn that the agreement could delay the development of generic competition for key medicines and keep pharmaceutical prices high.
Pharmaceutical industry bodies such as the Biotechnology Industry Organization (BIO) and the Pharmaceutical Research and Manufacturers of America (PhRMA) were disappointed that the intellectual property protection measures introduced in the TPP do not go even further. The final version apparently omits previously proposed measures that would have provided 12 years of data exclusivity for biological medicines.
In the chemicals industry, the reaction was more positive. Dow Chemical welcomed the final outcome, saying the agreement will eliminate unnecessary trade barriers and strengthen the US manufacturing base. The American Chemistry Council also applauded the agreement.
Meanwhile, environmental groups are concerned that the pact includes language that could allow companies and foreign investors to challenge government regulations in areas like environmental protection and chemical safety if they believe the regulations could hurt their profitability.
The final text of the new trade agreement is not expected to be available for several weeks, and the measure still awaits approval by the US Congress.