Synthetic peptide flags can trick the immune system into ignoring therapeutic agents. The peptides emulate protein markers that classify cells as 'self' rather than 'alien'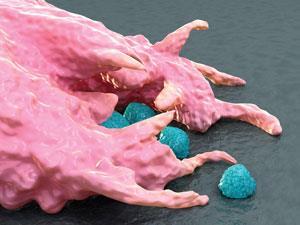 Synthetic peptide flags added to therapeutic and diagnostic agents can trick the immune system into ignoring them, according to US researchers. The peptides emulate the properties of the protein markers that classify cells as 'self' rather than 'alien' so they are not consumed by white blood cells.
In mice, the membrane glycoprotein CD47 flags cells as 'self' so that phagocytes ignore them and move on to find alien entities, such as microbes, that lack the flag. Dennis Discher together with colleagues at the University of Pennsylvania in Philadelphia, reasoned that if therapeutic agents could also be flagged as 'self', then they too would be ignored and be able to reach their target in the body unhindered. Unfortunately, adding complete protein flags to nanoparticles could be complicated, imprecise and costly.
Previous research has focused not on making agents look like 'self' but simply putting them into stealth mode by coating them with polymer brushes. These mimic cells' sugar coating, and slows their clearance from the body. Unfortunately, this approach also hinders uptake by the target cells.
Instead of using stealth, the team has computationally designed minimal peptide units based on human CD47 to mimic the natural protein flags. Tests show that these minimal 'self' peptides have almost optimal affinity for human CD172a – to which CD47 normally binds. This bodes well for inhibiting phagocytosis and allowing such agents to circulate and reach their target for enhanced diagnostics or treatment.
The team carried out tests using tiny plastic beads as surrogate therapeutic agents, flagged with their copycat human peptides. Adding a fluorescent dye molecule allowed tracking once the agents are injected into a laboratory mouse. Unflagged beads are quickly cleared, while those with a flag persist in circulation.
The team points out that phagocytes pervade all tissues and disease sites, including tumours, thus if that part of the immune system is to be circumvented to allow alien particles to be used in diagnostics or therapy, then it is important that such a minimalist approach be successful.
'This is really interesting work as it involves a line of thinking we have been watching very closely for some time,' says Joseph DeSimone of the University of North Carolina and NC State University, US. He adds that it extends the earlier in vitro study and validates the strategy of evading biological clearance. 'The key next step is to confirm whether a biological clearance evasion strategy can be effective when combined with a targeting strategy (peptide, antibody, aptamer, whatever)…that would be a really big breakthrough!' he says.