Dry pipelines and stiff competition add up to a tough year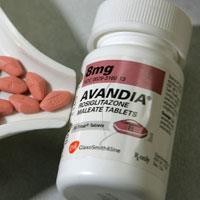 It's been a challenging year for the pharmaceutical industry. With growing regulatory pressures, generic competition and ever thinner pipelines, the days of the blockbuster-led business may well be numbered. Only about 20 new drugs are now approved every year, down from the 40 or 50 of a decade ago. Increasing numbers are 'orphan' medicines to treat rare conditions where the sales will be limited, and the move away from small molecules to large biologics continues.
Regulators are also being more selective in what they approve and they are demanding more data on efficacy and side-effects. While there are still many areas of unmet medical need, most of the 'easy' drug targets have been hit and attrition rates are high - only one in 10 new molecules now entering the development pipeline will emerge from the other end as approved drugs.
'The biggest challenge remains attrition of new medicines, especially during late stage development,' says Philip Wright, director of science and technology at the Association of the British Pharmaceutical Industry (ABPI). 'But there are new opportunities to address the key scientific challenges such as through the European Innovative Medicines Initiative (see Chemistry World, December, p11) and the public-private collaboration on the use of stem cells in early predictive toxicology screening. But if these are to deliver benefits to patients, we need to ensure drug discovery and development, regulation and clinical delivery are effectively joined up.'
Success stories
There have, however, been some important breakthroughs in 2007. In the field of HIV/Aids, for example, there are two first-in-class drugs: Pfizer's Celsentri (maraviroc), and Isentress (raltegravir) from Merck. Celsentri is a CCR5 inhibitor, and rather than attacking the virus itself, the drug prevents it from entering cells. And Isentress attacks the virus at a new point - the enzyme that integrates genetic material from the virus into human DNA.
Type II diabetes is a growing worldwide problem, and two drugs that work in a new way were both approved - Januvia (sitagliptin) from Merck and Novartis's Galvus (vildagliptin). They are dipeptidyl peptidase (DPP)-IV inhibitors, that stop the inhibition of two enzymes that cause insulin to be released. However, the class is already under a cloud, with reports of Januvia causing Stevens-Johnson syndrome - a rare but serious skin reaction - in a handful of patients, and the US Food and Drug Administration (FDA) has thus far failed to approve Galvus, asking for more data on whether side-effects in early animal studies are also seen in humans.
If the DPP-IV inhibitors can overcome these problems, they certainly have the potential to become huge blockbuster drugs. It's a big market - and one of the big-selling drugs has had problems of its own. Sales of GlaxoSmithKline's Avandia (rosiglitazone) fell dramatically when a meta-analysis questioning its cardiac safety was published in May. Reports of rare but serious side-effects like these have moved up the public consciousness in the wake of the Vioxx withdrawal at the end of 2004 (see Chemistry World, December 2007, p56).
All drugs have side-effects but the risk-benefit balance has shifted further towards safety, and regulators are increasingly asking for more trials to try and ensure there are no more Vioxxes. The result is drugs are taking even longer to reach the market, and the window of opportunity for the pharma company to recoup expenditure is shrinking. Cutting costs has never been more important.
Leaner times
One of the biggest money-saving trends in recent years has been the outsourcing of manufacturing. As companies increasingly focus on the core strengths of discovery and marketing, ever more of the manufacturing chain is being shifted elsewhere, and in-house capacity has dramatically reduced. For example, Pfizer is closing its manufacturing plant in Sandwich, Kent, plus two of its five sites in Ireland (although a new biologics plant is to be built there). It also wants to double its outsourced manufacturing to 30 per cent, largely to Asia. The rationalisation following the 2006 merger of Bayer and Schering in Germany has led to big cutbacks - 6000 jobs are to go in total, a third of them in manufacturing. Glaxo is to close a plant that makes Avandia in Puerto Rico, and further cuts are also being made. And in September, The Timespublished an interview with David Smith, AstraZeneca's vice-president of operations, in which he was reported as saying that the company planned first to outsource all active pharmaceutical ingredient (API) production to Asia, and then look to exit manufacturing entirely within a decade (see Chemistry World, October 2007, p18). The claim was refuted by the company but the firm has confirmed that it is looking more seriously at outsourcing - particularly to India and China. 'Owing to the pressures in the industry, quick fixes are often preferred to optimised solutions,' says Steve Ley, of the University of Cambridge's chemistry department. 'But a quick fix of a poorly thought through synthesis route does not always lead to time or cost savings. Outsourcing can be beneficial but its ultimate effects - and threats to the job market and even to the science base itself in the US and Europe - are likely to have serious consequences.'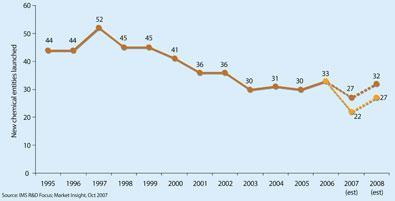 Mergers and acquisitions were scarcer than they have been in recent years, with no megamergers, and just two mid-sized acquisitions. Akzo Nobel sold its drugs business Organon to Schering-Plough of the US for
11 billion (?7.9 billion) in March, taking industry watchers by surprise as it was about to go ahead with a planned spin-out. And AstraZeneca increased its foothold in the biologics market with the $15.6 billion (?7.6 billion) purchase of MedImmune, a deal that many analysts believe was overpriced.
There were, however, many takeovers and in-licensing deals with small biotechs. There has been a trend for big pharma filling up their emptying pipelines with products licensed from smaller players over the past few years, and increasingly biotechs are being set up with the expectation that they will be sold on to a pharma company rather than being floated on a stock exchange. 'Most companies in the UK are now set up for a trade sale,' says early-stage biotech investor Andy Richards. He adds that the current financial climate is less of a challenge for start-up companies. 'We are a non-debt sector, and I think that will be very positive for our business.'
Unfair competition?
The issue of counterfeit products doesn't go away, and a number of batches of fake drugs were found on pharmacy shelves in the summer - notably heart drug Plavix from Sanofi-aventis, Lilly's antischizophrenic Zyprexa (olanzapine) and cancer treatment Casodex (bicalutamide) from AstraZeneca. All these had been imported from France by parallel traders. Under the EU's single market rules, wholesalers can legally buy drugs in one country, where the government-controlled price is low, repackage them, and sell them on where the price is higher.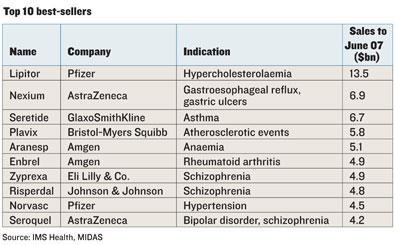 The industry has long argued that the practice allows fakes to enter the supply chain more easily, as well as reducing the amount of money they can invest in future research. Several companies have decided they are going to limit the distributors they will supply drugs to, in the hope that this will reduce the opportunities for parallel trading. Pfizer was the first in autumn 2006, saying it would sell only through Unichem. Others have since followed suit, including AstraZeneca and Sanofi-aventis. Eli Lilly and Novartis is also considering its options.
In February, the drug industry was hit by a UK Office of Fair Trading report, which concluded that the NHS is paying too much for medicines. It suggested that the arcane and complicated way drug prices are set by the Pharmaceutical Price Regulation Scheme (PPRS) - which leaves companies free to choose their own prices as long as their profits don't exceed a certain level - should be replaced, probably by a system that takes into account the value gained by using the drug. The government later announced that the entire PPRS scheme is being reviewed, and industry is nervously awaiting the outcome.
On a more positive note, however, the new Health Innovation Council announced by Labour peer Ara Darzi in October could mean that innovative medicines reach patients more quickly. Unlike the US, where once the FDA says 'yes' a drug is available for patients very quickly, in Europe there are many further decisions to be made at national level, such as pricing and reimbursement.
Darzi's review of the NHS has been welcomed by industry, including ABPI director general Richard Barker. 'I think the climate may be changing, and the government is now sensing that it is not good that innovative medicines do not get to patients very fast in the UK,' he said. 'I may be being over-optimistic, but perhaps the NHS is finally realising that the uptake of innovation is important.'
Sarah Houlton