Complaints from companies looking to manufacture 1234yf have led to a formal investigation into anticompetitive behaviour
The European Commission is going to investigate agreements between two major US chemical companies, Honeywell and DuPont, concerning 1234yf (2,3,3,3-tetrafluoropropene), a new refrigerant for car air conditioning systems.
The Commission is interested in whether those agreements break competition rules and 'whether Honeywell may hold and abuse a dominant position over the refrigerant'.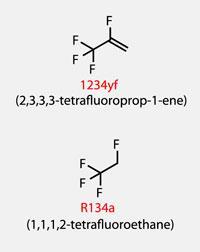 Most car air conditioning units use R134a (1,1,1,2-tetrafluoroethane) as a refrigerant. But in 2006, the EU created rules to phase out R134a in new model cars by 2011 and in all new cars by 2017 because of the effect of R134a on climate change. R134a has a global warming potential (GWP) of 1430, meaning it can trap 1430 times as much heat in the atmosphere as an equivalent amount of CO2. Under the 2006 rules, the GWP of replacement refrigerants is limited to 150.
1234yf, which has a GWP of 4, has been widely endorsed by the automotive industry as a replacement refrigerant. In November 2010, a research study organised by the automotive engineering organisation SAE International determined that 1234yf could be used safely as 'the global replacement refrigerant'. For a while, a small section of the industry, including several German automotive manufacturers, had endorsed carbon dioxide as a replacement. CO2 has a GWP of 1, but the technical challenges of using it as a refrigerant meant that this camp was won over in the last year or so.
Honeywell and DuPont announced plans for a joint venture to produce 1234yf in May 2010. The probe is a response to complaints made in April 2011 by French chemical company Arkema, which is also looking to produce 1234yf. Arkema says that it is 'ready to invest in an efficient production unit as soon as the legal environment will allow it'.
The Commission will investigate whether Honeywell behaved deceptively between 2007 and 2009 during evaluation of 1234yf. Specifically, it says that some groups claim the company did not disclose patents and patent applications while the refrigerant was being assessed and then failed to grant licences on 'fair and reasonable' terms.
Arkema says it is 'satisfied' with the Commission's decision to start an investigation.
Andrew Turley