Capacitive deionisation could turn the oceans into a source of drinkable fresh water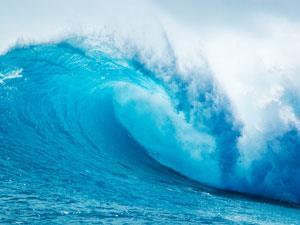 Across the world, millions of people cannot access fresh, clean water. With global populations rising and freshwater supplies regularly becoming overdrawn or contaminated, the ability to purify sea water is becoming increasingly important.
Now, scientists from South Korea have modified a water treatment method called capacitive deionisation, with the aim of desalinising sea water on a large scale. Capacitive deionisation uses an electric field to remove cations and anions from water flowing past two oppositely placed electrodes. The team, led by Moon Hee Han from Chungnam National University and Dong Kook Kim from the Korea Institute of Energy Research, have developed flow electrodes from a suspended carbon material. Not only is this approach more energy efficient – it does not require a discharge step like conventional capacitive deionisation – but it can also be easily scaled-up simply by increasing the number of flow electrodes in the system.
Yury Gogotsi, an expert in capacitive deionization from Drexel University thinks the flow configuration developed by Kim and co-workers addresses one of the key challenges facing the technology: the small size of electrodes electrosorbing salt ions. 'In theory, a flow electrode can yield an infinite capacity, only limited by tank size, and be used for water desalination on a large scale, supplying drinking water to a population,' he says, adding that, although a proof-of-concept has been demonstrated, further development of the electrode suspension could improve efficiency further. 'Overall, optimization of this system design may be able to provide a new solution for medium- and large-scale water desalination,' he says.