ATMs could be made from a new material that sprays out in self-defence and destroys banknotes
Thieves could inadvertently destroy their intended loot if they attack a cash machine made from a material being developed by scientists in Switzerland. The self-defending system was inspired by a beetle and requires no electrical components, so could be cheaper and simpler than current security systems.

Wendelin Stark and his team at ETH Zurich have plenty of experience of finding unusual applications for biological chemistry, having previously worked on sweaty buildings and self-defending seeds. Their latest efforts imitate the bombardier beetle, which can spray a hot, corrosive mixture at its attackers. It led the team to develop a new material to use in ATM machines, which releases a hot foam mixture if it is broken or cracked, staining and devaluing the banknotes inside.
When threatened, bombardier beetles release enzymes from a chamber in their exoskeleton into a second chamber filled with hydrogen peroxide. The enzymes decompose the hydrogen peroxide in a rapid and violent reaction, creating a defensive spray. Stark's material, which has a double-layered compartment design, also stores hydrogen peroxide in one of its compartments. Manganese oxide in the other compartment mimics the beetle's enzymes. A physical impact breaks the brittle barrier between the two compartments, mixing the two chemicals to create an eruption of hot foam.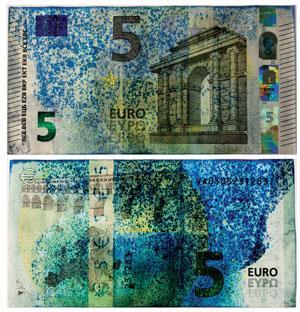 Dye or a DNA tracer can be added to one of the compartments to label the perpetrators and their haul. Because the material only releases foam when it is damaged, there is no need for security guards, cameras or electronic triggers to ensure that it goes off at the right moment.
Patrick Theato, an expert in functional polymers at the University of Hamburg in Germany, likes the concept very much, and believes that it bears great potential for other applications. 'The real challenge is to scale it down,' he says; for example, he suggests developing a coating that reacts when bent or stretched too far, rather than requiring an impact breakage.
Next the team plan to extend the concept to other areas, such as medical implants, that respond to mechanical signals, and agricultural pest deterrence. Stark wants his work to inspire others: 'I hope this will motivate people to think about non-traditional systems.'