As the UK rolls out a new £5 note we ask what are the advantages of ditching the old paper fiver?
The new £5 note has just gone into circulation across the UK today. The Bank of England has arranged for 440 million £5 notes to enter circulation with a value of £2.2 billion, with the old note being phased out by May 2017. The new note, which will feature a portrait of Winston Churchill, is part of a roll out that will see the £10 note replaced in 2017 and the £20 note replaced by 2020. The note is being printed by De La Rue, which also produces currency for countries such as Fiji, Mauritius and Guyana, as well as the UK passport and Microsoft's certificate of authenticity.
Wait. We're in the digital age… does paper currency have a future?
Absolutely. The banking industry estimates that around 162 billion new banknotes go into circulation every year. Reports of the 'death of cash' have been greatly exaggerated and the number of banknotes in circulation is still growing globally. Added to this, over a third of the world's population doesn't have a bank account – making digital transactions difficult.
So why are we moving to polymer notes?
Traditionally, the main material used in the manufacture of notes is cotton, and over 95% of the notes in worldwide circulation continue to be made from it today. The reason is a simple one; it possesses a longer fibre length over shorter wood equivalents, offering better durability. Currently, the Bank of England has to replace around 22,000 notes a year – including 10,761 torn notes, 5364 chewed or eaten notes, 1801 washed notes and almost 1000 destroyed by fire.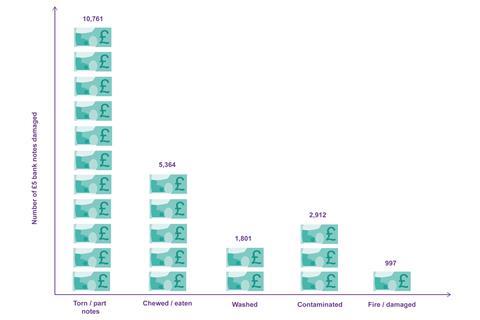 Polymer banknotes aren't new though and have been around for 20 years. De La Rue's variant is made of polypropylene. Polypropylene starts out as a clear material, before base print layers are added to the plastic for the purposes of durability, opacity and reducing static. Subsequent layers are then added to this foundation, which include the characteristic raised print or intaglio – one of the key things that make banknotes so secure. Using polymers also means that security can be further beefed up with a clear plastic see-through window, something not possible with paper notes. Finally, in addition to the magnetic materials added to allow banknotes to be read by cash machines, polymer notes have a hydrophobic polyurethane varnish, which prevents soiling and water damage.
All of this means polymer banknotes last up to 2.5 times longer than paper (depending on the specific geography, climate and culture of the country), as well as having more security features.
As with any emerging technology, countries have adopted polymer notes at different speeds: some have used it across the whole family of banknotes, while others have elected to target harder working denominations where durability is pivotal.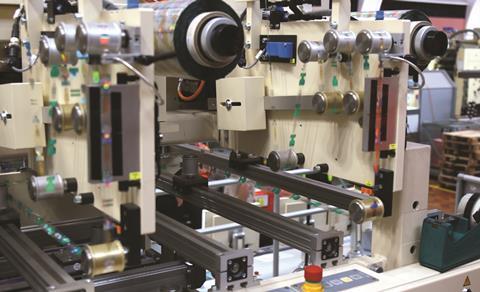 Are polymer banknotes the only option?
Not at all. The future of physical currency could also be hybrid substrates, which use paper between polymer layers (or the reverse).
What are the challenges when making polymer banknotes?
Naturally, more durable substrates mean that all the accompanying inks, coatings and applied features also have to last longer to meet the increased lifetimes of the notes. This includes inks that are visible under ultraviolet or infrared light, as well as those which are visible in normal circumstances. Typically, plastics are also vulnerable to static build up in the manufacturing process, so any developments during the creation of notes also require simultaneous improvements to overcome any static related issues during their manufacture and use.
What about security?
As a result of their long and storied existence, banknotes are packed full of security features – although obviously we can't say too much about them. Helping to defeat counterfeiters by increasing the security of paper and polymer notes requires unrelenting attention to detail and constant innovation to prevent criminals from catching up with new technologies. Digital counterfeiting is just one new method by which forgers attempt to circumvent existing efforts, so new banknotes are designed with security features that cannot be credibly reproduced at a mass scale using established counterfeiting techniques.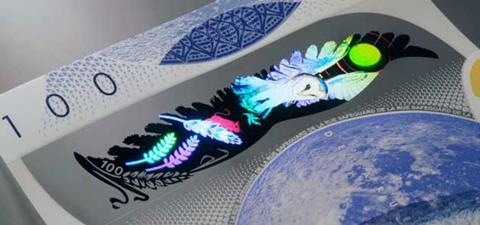 What we can say is that polymer banknotes will increase the use of holograms on notes, and that new techniques are being used to make holograms clearer due to the smoother surface of the material. The new £5 note also includes features such as microscopic lettering under the Queen's portrait, the number five appearing under ultraviolet light and foil images of the Elizabeth Tower (in gold and silver) and the Blenheim Palace maze (in green).
This doesn't mean that paper's day is over, though. In 2013 De La Rue won a Queen's Award for Enterprise for developing its Optiks product: an 18mm-wide security thread with a large window on one side, giving paper the same clear window found in polymer notes.
Mark Harding is the hardware & materials development director at De La Rue