Richard Pike, who led the RSC for five years and saw membership rise to record levels, has died at the age of 61
Richard Pike, one of the country's leading voices in science and education, has died at the age of 61.
Pike stood down as the RSC's chief executive in February this year after five successful years at the helm of the learned society. Under his leadership, membership reached a record high of more than 47,500. Among other notable achievements, 10 new journal titles were launched and the number of chemical sciences articles published since he joined in 2006 has trebled.
He also steered the RSC into international waters, with several new offices opening in China, India and the United States. A fluent Japanese speaker, having spent five years in Japan while working as an executive for BP, he also oversaw plans for the opening of the RSC's Tokyo office, which took place in July.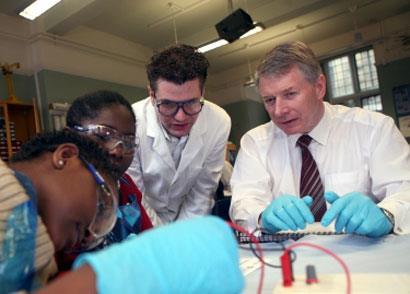 Born on 2 April, 1950, he attended Gosport County Grammar School (later to become the comprehensive Bay House School) before studying at Downing College, Cambridge, where he gained a 1st Class BA in engineering in 1971. He gained a PhD in 1977, also from Cambridge, and his research work investigated experimental and theoretical aspects of vapour bubble dynamics in boiling liquids, focusing on the thermal and fluid characteristics of water and organic liquids in various gravitational fields, including Earth and zero gravity.
He was sponsored by BP as an undergraduate and went about studying Japanese during his time at college. This led to a 25-year career in British Petroleum (BP), where he held a number of technical and commercial positions in the UK and abroad. While working in Tokyo as General Manager, Chemicals, BP Far East, he was also appointed president, BP Chemicals, Japan and director, Samsung-BP Chemicals, South Korea.
Upon returning to the UK, he became director general of the Institution of Mechanical Engineers - a position he held for five years. He moved on to become senior associate at Gaffney, Cline & Associates, advising on corporate strategy within the oil and gas industry.
In February 2006 he was appointed chief executive of the Royal Society of Chemistry and said he looked forward to 'ensuring that the RSC maintains and develops its role in championing the vital role that the chemical sciences and those who practise them play in the future prosperity and well-being of the population, economy and environment'.
It was a position he relished and he quickly became a leading advocate of the chemical sciences, allowing the RSC, combined with its parliamentary activities, to become a significant voice in science and education.
One of his best known initiatives was the 'Five-Decade Challenge', an exam for the brightest 16-year-old chemistry students taking in exam questions from the 1960s through to the 2000s. The results showed the pupils performed significantly worse on the older papers' questions.
He appeared on news channels and radio stations throughout last summer using his experience as a chemical engineer and former BP executive to explain to the nation the developments concerning the Gulf of Mexico oil disaster. But raising standards in education was the one theme that he returned to throughout his time at the RSC, never missing an opportunity to question whether exam boards challenged UK pupils enough while simultaneously highlighting the important role chemical scientists played in the health and well-being of the nation.
Robert Parker, interim RSC chief executive, paid tribute to him today: 'Everyone who worked with Richard is shocked and saddened by the news of his death. He brought a tremendous energy and enthusiasm to the role of chief executive and he helped build strong and abiding relationships with RSC's partner organisations overseas. Richard left behind him a very strong team with a dedicated group of staff in the UK and overseas, who are in excellent shape for building further upon his legacy.'
David Phillips, president of the RSC, said: 'We are very sad to have lost such an advocate of the chemical sciences in Richard Pike. He brought tireless effort to his role as CEO, succeeding in numerous areas for the benefit of the organisation and considerably enhancing the RSC's international role.'
Pike is survived by his wife Fiona and three children.