Temperature played a crucial role in David MacMillan's decision to study chemistry. Joanne Thomson finds out more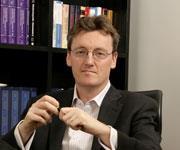 Temperature played a crucial role in David MacMillan's decision to study chemistry. Joanne Thomson finds out more.
David MacMillan is the A Barton Hepburn chair, director of the Merck Center for Catalysis and department chair of chemistry at Princeton University, US. His research focuses on organic chemistry and catalysis.
Why did you decide to become a chemist?
It's a funny story. I originally went to Glasgow to study physics but the physics lecture theatre was really cold and the chemistry lecture theatre was much warmer so I switched degree. That makes it sound trivial - I obviously liked the subject too.
What's going on in your lab at the moment?
Something I'm really excited about is synergistic catalysis. Instead of using one catalyst to do one reaction (i.e. one activation mode), can you strategically carry out two activation modes in the same reaction such that you find two activating molecules that will react with each other. There are a whole host of different bond connections that can fly out of that - new reactions, new bond formations, high levels of selectivity and enantioselectivity. It is something that nature does but chemists rarely do and so the area is completely wide open.
Another thing we're looking at is collective total synthesis: how do you think of ways to strategically build molecules that allow you to build lots of families of natural products as opposed to just one natural product? That would allow you to systematically make things with much higher levels of efficiency. When it comes to using natural products, collective total synthesis makes much more sense, in the same way that a medicinal chemist would much prefer to make a late stage molecule that can be diversified at the end rather than making a different single molecule every single time.
Aside from your own research, what's hot in organic chemistry right now?
The work of Eric Jacobsen is exceptionally interesting - the whole idea of using small numbers of interactions to stabilise transition states, allowing you to go after different ways of activating molecules, for example counter-ion catalysis, which his group does.
I also find Steve Buchwald's work amazing because it is chemistry that has a massive impact on a day-to-day basis. To me, that is exceptionally exciting.
C-H bond activation is one of the great frontiers of the field and there are some really fantastic people doing it - Christina White, Melanie Sanford, Jin-Quan Yu, to name a few.
You have received numerous awards throughout your career, including the 2011 ACS award for creative work in synthetic organic chemistry. What do awards mean to you?
People like me are always cynical about awards and say they don't mean anything to us until we receive one and then we are exceptionally happy. It makes you feel like you are being recognised by the greater community and that is a superb feeling. You are doing something that you care about and it is nice to know that the community also thinks it is valuable.
What are the main challenges facing chemists and chemistry?
There are the big societal challenges that everyone is aware of, such as energy and scarce natural resources. Another challenge is being able to make any molecule we want efficiently and selectively.
One major thing chemists need to work on is their ability to promote their work to other scientists and the public. This is something we are really not good at in general and if we improved, it would really open doors for us and improve society's perception of chemistry and its impact.
You are a consultant for a number of pharmaceutical companies. Can you comment on the current state of the industry and the recent high profile redundancies?
Pharma is obviously in a state of flux right now. We are seeing fewer drugs being approved on a yearly basis and there is a constant question as to why. I suspect the real reason is a combination of factors including: (i) the FDA (US Food and Drug Administration) setting unrealistic bars and guidelines for when drug approval is possible, (ii) the push towards company mergers, which leads to fewer approaches towards developing drugs for any given target for society, as well as a net reduction in the number of scientists gainfully employed in the practice of making drugs on a world-wide basis, and (iii) the impact of Wall Street on pharma and the constant push for quarterly short term success at the price of long term success, which is the eight year cycle to produce drugs. The latter has resulted in a lot of lay-offs to save money by cutting R&D. The problem is this is setting the stage for more disappointment in the long term (or killing the goose that lays the golden egg).
I think there are two bright sides in this gloomy picture. The first is that smart people (and chemists are very smart) will always find a way towards using their talents and to success. This will most likely play out in the form of small companies being built by chemists and biologists who are being pushed out of big pharma. These people will continually push innovation, determination and they will have a buy-in for the companies they form, as opposed to being continually distracted by the fear of losing their job at a larger company. These companies will grow and will provide jobs in the US and Europe for the future. It will take a while, but it will happen.
The second is that many big pharma companies are in trouble. However, it is my view that the best ones will make it and the not so successful ones will not. The ones that will make it through will prosper and they will see re-growth in the future. As to where these companies will be located, I still see Europe, Japan and the US as the major locales for these companies for many years to come.
What advice would you give young scientists starting out in their career?
Follow your dream. Don't get bogged down by the small, incremental things even if someone tells you you should be doing them. Concentrate on what you really want to achieve.
What do you do in your spare time?
I hang out with my family. I have a five year old daughter and an amazing wife. Because of my job, time is limited so I try to spend as much of my free time with them as possible. I am always playing or watching football with my daughter and we go to libraries and go cycling. My favourite thing is quality time with my family.
What would you be if you weren't a chemist?
I'd like to have been a professional football player but I am absolutely terrible at it so there is no way that would ever have happened. Perhaps something in design but it is a really difficult question - chemistry has been my focus for such a long time.
Link to journal article
The intramolecular asymmetric allylation of aldehydes via organo-SOMO catalysis: A novel approach to ring constructionPhong V. Pham, Kate Ashton and David W. C. MacMillan,?Chem. Sci., 2011, 2, 1470DOI:10.1039/c1sc00176k
A general approach to the enantioselective
-oxidation of aldehydes via synergistic catalysis
Scott P. Simonovich, Jeffrey F. Van Humbeck and David W. C. MacMillan,?
Chem. Sci.
, 2012,
3
, 58
DOI:
10.1039/c1sc00556a
Also of interest

14 July 2011
Researchers take a leaf out of nature's book to synthesise a diverse range of natural products from a single precursor

04 September 2008
Combining transition metals with organocatalyst to make elusive molecules

David MacMillan, a leading light in organocatalysis, takes James Mitchell Crow on a tour of the field