Austerity measures have seen research cash fall to half the levels of 2008 in the Baltic state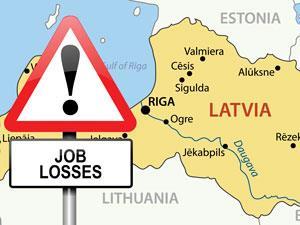 Raivis Zalubovskis, a team leader at the Latvian Institute of Organic Synthesis in the capital Riga is looking to leave his Latvian homeland in search of a paying job in science, trying to escape what he calls the 'catastrophic' situation in research.
He returned home in 2006, following a PhD in Sweden, to what he then thought was a country with good scientific prospects. 'I returned because I believed there would be a future in Latvia,' he says. But recent events have left him – and hundreds of scientists in Latvia – without research funding and looking to either leave the country or research.
Now, he says, his salary is lower than it was during his PhD, and his group survives on savings and occasional outsourcing jobs for industry. 'It's not science, it's industry,' he says. But, he adds, 'if we didn't have these outsourcing projects for industry we would not be able even to pay for electricity and water. In chemistry we can do this, but not everyone can.'
False dawn
Latvian science went through a rough period in the early 1990s as the small Baltic nation broke away from the Soviet Union. But things started to improve and after joining the EU in 2004 things were looking up with new funding streams opening up.
There is no plan B
But scientists now say that there has been overreliance on EU funds, with no long-term security and no domestic funding to continue research once European cash runs out. 'There is no plan B,' president of Latvia's science academy, Ojars Sparitis tells Chemistry World. 'My heart is full of sorrow and pain due to passive, short-sighted and non-talented management of the development of all branches by our politicians.'
In real terms, science funding is now less than half what it was in 2008, reaching only 0.65% of GDP, according to Sparitis. With institutes receiving only around a fifth of their running costs and EU-funded projects coming to an end hundreds of scientists now face losing their jobs.
Cry for help
Zalubovskis sent an open letter to the European commission and the prime minister of Latvia on 17 May, signed by almost 600 PhDs and PhD students – around a fifth of Latvia's scientific workforce – to highlight their plight and to try to get the Latvian authorities to honour their funding obligations.
Latvia's science law requires a yearly increase in the research budget of 0.15% of GDP until 1% of GDP is reached, the letter states, but this has been ignored. Instead, funding for science in 2013 is LVL30 million (£36 million) lower than in 2012, it says, and only around 0.02% of GDP goes towards actual research.
'More than 500 scientists are left without or with miserable financial support after the European Social Fund (ESF) projects ended at the end of 2012,' the letter says. 'Therefore, many scientists are forced to leave Latvian science taking non-scientific positions in enterprises or scientific positions abroad.'
In Zalubovski's institute alone, only 10 researchers out of 200 got Latvian research grants last year, and more than 40 have left since December, he says. 'Only a few of those PhDs went into the chemical or pharmaceutical industry, the rest of them are taking other jobs which are not related to their education, or their skills; some of them have left the country.'
And promising PhD students are turning their backs on research, as they get only around LVL200 per month before tax. 'For this money you cannot survive,' Zalubovski says.
Get out now
Egils Stalidzans, senior researcher at the Latvia University of Agriculture, and chairman of the Board of Association of Latvian Young Scientists was lucky, getting a European ERA-NET grant after his ESF expired in December. This will keep him going for three years, but he is advising his students to go abroad and many of the brightest people are leaving the country, he says.
Out of 20 researchers who worked on systems biology projects funded by ESF until December only five now remain in research. 'Many of them are quitting their jobs in research – that is something that is already happening – the next portion of projects will end at the end of this year,' Stalidzans says. This is when 'many researchers will have to ask a question: what now?', he says, since surviving with Latvian funding for science 'is impossible'.
Agrita Kiopa, head of Higher Education, Science and Innovation Department of the education and science ministry puts the cuts down to austerity measures. 'Now, as our economy is recovering we are hoping to be able to increase science funding,' she says. 'We have requested an additional LVL21 million for "base" funding which covers the most urgent expenses.'
But Stalidzans is sceptical. 'The deficit is so large, that it's hard to imagine that a miracle could happen and, say, funding would be tripled or doubled.' Zalubovski believes this is only the start of the crisis in Latvian science. He is already planning another letter of protest, though he holds out little hope. 'We don't really have big illusions that we will get anything more next year,' he says. 'We're trying to fight, but it seems we're starting to lose permanently.'
Correction: The article originally stated that Latvia's spending on research was 0.065% of GDP. This should have read 0.65%