Cross party committee warns that student places could be cut to counter a funding gap in UK higher education
A cross party group of MPs has said that the new funding arrangements for UK higher education will result in a 'significant funding gap of hundreds of millions of pounds'. Addressing this funding black hole may mean that the number of student places could be cut, the House of Commons Public Accounts Committee warned in its 7th June report.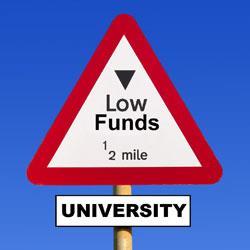 'At present, more universities intend to charge higher fees than the Department [for Business, Innovation and Skills] had expected,' said Committee chair Margaret Hodge. 'If the universities' plans to widen participation are approved by the Office for Fair Access, this will leave a substantial funding gap.' This funding gap is likely to be filled by further cuts to the education budget or government money, Hodge said.
In November, the UK government announced that, from 2012, universities would be given the option to charge their students up to ?9000 per year, but that those that chose to charge more than the ?6000 minimum would have to widen participation and access. However, since the announcement, most universities have opted to charge the maximum fee - or close to it - while the government modelled its plans on an average fee of ?7500.
'The government has lost the plot,' said Universities and Colleges Union (UCU) general secretary, Sally Hunt in response to the report. 'It is clear they have got their sums completely wrong and that their entire funding model is in disarray.'
The government's higher education reforms suffered another blow when University of Oxford academics delivered a vote of no confidence in the plans yesterday. University of Cambridge academics are expected to deliver a similar no confidence vote later this month.
But while student numbers have grown 2 per cent annually in the last five years, it is uncertain whether increased fees will cut demand. There are concerns that if student numbers drop, higher fees will not be enough to fill the funding gap for some universities. This could push some institutes into insolvency, so the committee has called for the Higher Education Funding Council for England (Hefce) to be given new powers to monitor universities' financial situation in a bid to protect students.
Hefce, who gave evidence to the committee, welcomed the report. 'As the PAC report makes clear, higher education is facing unprecedented change, with new funding arrangements from 2012,' said Alan Langlands, Chief Executive of Hefce. 'We agree with the Committee that a new regulatory system will need to consider a more graduated risk assessment system.'
Laura Howes